With photography becoming so prevalent today it's easy to wonder… "do we take it for granted?". While today we may not second guess the technology behind photography, its entrance into the art world was far from natural. Since its inception, we've come to develop an intimate relationship with photographs that stand the test of time. Here are 6 reasons why you should collect photography (if you haven't already!).
​​1. Think of it as owning a moment in time
With life nowadays fleeting before our very eyes, collecting moments suspended in time is gratifying. Oftentimes, allowing us to view something differently each time we look at it. A strong photograph is always open for interpretation; it asks questions rather than gives answers.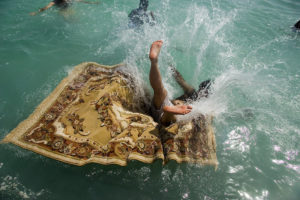 Water & Persian Rugs series, Jalal Sepehr, Digital photography
"In my Water and Persian rugs series, an unexpected environment was created between the event and the moment. What inspired me to take these photos was creating new moments, colour contrasts, a diverse quality, and making the rugs float and dance in the water." – Jalal Sepehr
2. It celebrates cultural and historical references
Photography has long been a means of recording crucial events in history but also is a beautiful way to exchange information about one another's culture. Iranian artist, Babak Kazemi, uses photography to revisit the 16th century tale of Farhad's love for Shirin that was signature to Persian miniature art. For Babak, the story reveals the historical roots of what we know today as forced migration and immigration. The ultimate message of his photographs is that love can overcome even the most difficult of situations.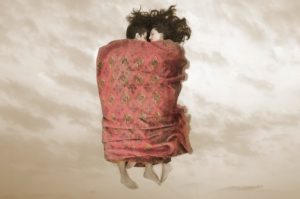 Exit of Shirin & Farhad series, Babak Kazemi, Digital photography
3. It deepens our understanding of each other
Photography is a tool that stimulates people to make social change. By shedding light on societal, political, or environmental issues, photography makes us aware of important topics we wouldn't have necessarily thought of before. It makes us experience emotions that move or compel us to take action.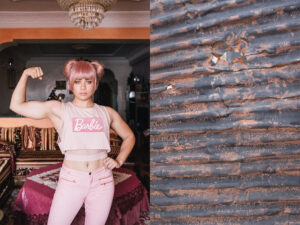 Salima, Among You series, M'hammed Kilito, Fine art print on hahnemuhle paper
Moroccan photographer M'hammed Kilito's series, Among You, challenges our perception of today's Moroccan youth that push society's standards. Read more about M'hammed's series here.
4. It's unique 
Unlike painting, photography requires a real physical object to be captured, allowing us to perceive a photo as something more real.
It's also unique in how it can be collected. Contrary to common questions like, "Can't photographs be infinitely reproducible?" The short answer: It's not! Photography like any limited-edition work is only printed in a specific amount. The artist signs each copy of the print and numbers them. This is also known as an edition. The lower the number of editions, the more valuable the work is.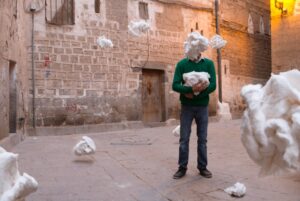 Lalaland III, Amr Attamimi, Digital photography
5. The photographs of today are the history of tomorrow.
Photography goes through a constant creative flux as technology evolves. Looking through an artist's photographs during different periods can lead to pinpointing a series that was important to an artist's growth. Leading contemporary photographer Shadi Ghadirian's series Qajar (1998), gave her well-deserved international recognition. In this timeless series, Shadi arranged portraits of women, mainly her friends and family, using backdrops and dresses reminiscent of the Qajar era (1785-1925), but made it relevant to today by adding contemporary Western props.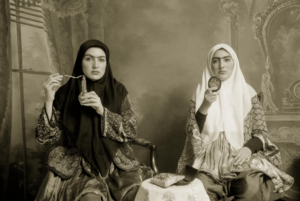 Qajar series, Shadi Ghadirian, C-print photography
"My pictures became a mirror reflecting how I felt: we are stuck between tradition and modernity. This conflict between old and new is how the younger generation is currently living in Iran". – Shadi Ghadirian
6. It's wallet-friendly
Compared to other art forms, photography starts at a fairly accessible price point, especially for emerging artists. It's important to do your research and train your eye on those artists that are beginning to be collected by major museums or showcasing in local or international exhibitions.
Mufuddel, Omanis Under Water series, Estabrak, Archival giclee print
As the old saying goes, a picture is worth a thousand words. It's never too late to start your own journey in collecting photography! Browse the gallery here.