Moroccan artist, M'hammed Kilito's series, Among You, celebrates the power of photography in depicting realities that are intentionally ignored, unheard of, or swept under the rug because it doesn't fit into society's 'standards' or conventions. Often seen as the divergent, the outcasts or the tabooed, are in reality 'unseen', falling through the cracks of society. Kilito's series challenges that by giving these individuals a platform to share their stories through his artistic lens.
How would you describe Among You?
Among you reflects the choices around personal identity for Moroccan youth. Through a selection of portraits, I document young people who take their destinies into their own hands. These individuals have the courage to choose their own realities, often pushing the limits of society further. Whether through their creative activities, their appearance, or their sexuality, they convey the image of a young Morocco - alert, changing, claiming the right to be different and celebrating diversity.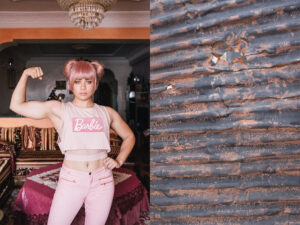 Salima, M'hammed Kilito
In your opinion, what does the Moroccan youth embody?
These young people, whose minds embody the resistance of a palm tree - a tree adapted to the harshest Moroccan climatic conditions - defy the conservative and traditional norms of Moroccan society on a daily basis. They cultivate their private oasis despite the obstacles they encounter in a country that they feel is not progressing at the same pace as they are, and they are inspiring others along the way.
"Several times I've been told that these young Moroccans don't look like Moroccans. I just ask in return what it means to look Moroccan? I think that is a good start to challenge stereotypes and engage reflection on how quickly change is taking place in our societies."
Your series showcases the diversity of youth in Morocco. Can you share with us the particular story of Anas?
Anas says he has problems with his family at home. They do not call him by his first name but by saying "the tattooed one". This qualification, which is pejoratively meant, says a lot about the stigmatization of tattooed people in the Moroccan collective imagination, because they are considered criminals, prisoners and dangerous people. He is a Peter-Pan, in the midst of adults, lost in issues beyond his control.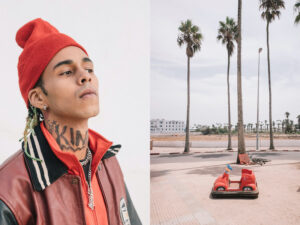 Anas, M'hammed Kilito
How would you describe the struggle of today's Moroccan youth?
We live at a time where we watch, regardless of where we are, the same TV series, listen to the same music, have the same idols and dress in the same fashion. The phenomena of cultural globalization have enabled a rich global cultural industry to flourish.
For some, the struggle of these young people may seem futile, but the reality of the country has shown us more than once the opposite. One example is a news item that shook Moroccan public opinion for several months: The Satanist affair. In Casablanca in 2003, 14 hard rock musicians were accused of "Satanism" and "acts that could shake the faith of Muslims" with some of them getting a 2-year sentence in prison.
For the LGBT+ people, same-sex sexual activity is illegal in Morocco and can be punished with anything from six months to three years' imprisonment and a fine of 120 to 1,200 dirhams. The Moroccan government uses the law as a way to police members of the LGBT+ community. When one is arrested in Morocco for a suspected homosexual act, their name becomes publicized outing the individual regardless as to whether they are homosexual or not. In 2016, two girls were arrested in Marrakesh after one's cousin took a photo of them kissing.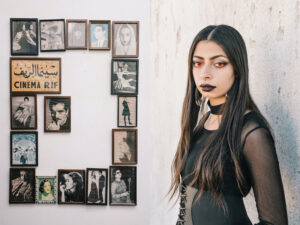 Salma, M'hammed Kilito
What is it about photography as a medium of expression that interests you most?
My interest in photography is to get people to think and reconsider their prejudgments. I see it as a tool that invites to deconstruct in order to better reconstruct. I am interested in other people and how people think about other people.
"I don't want to tell people that they are wrong or that their idea of other people is wrong, I don't want to tell them that they are right either, but I just want them to think about the people and the stories I present through my work."
To view M'hammed Kilito's full series click here.