With life calling us to spend more time in our humble homes, we've naturally become inclined to bring the outdoors indoors. Consider yourself turning into that plant person you never fully understood? Find yourself craving artwork depicting scenes of nature? Don't worry you're not alone in your growing nature obsession. According to Artsy, nature is a trending theme in art for this year. While one is recommended to fully immerse himself in nature to reap the full benefits it offers, landscape art serves as a reminder to appreciate the divinity of nature. It reflects more of what we should do. A growing body of research has proven that nature calms us down by reducing stress levels, increasing self-esteem and lifting our mood. According to a Yale Psychology article, it takes precisely 2 hours per week in nature to feel healthy and develop a strong sense of well being. And with the pandemic stirring erratic changes to our lifestyle causing constant threats to our health and changes to our ecosystem, it makes complete sense as to why we're turning to nature more often, and as always, art mirrors life. Here are a few of our key artists that explore nature in diverse ways and mediums:
Tarik Chebli:
Known for his ethereal landscapes, Tarik has always painted only nature scenes. From early on in his childhood, Tarik would turn to nature to find solace. "I see the divine in nature, it makes me believe in something higher." Oftentimes showcasing the symbiosis between the animals and their environment, while other times solely depicting the pristine landscapes on their own, untouched by humankind.

To view Tarik Chebli's
Ecstatic Nature 
exhibition
click here
.
Ahoo Hamedi:
Ahoo takes a unique approach to exploring nature with her blossom series and use of plexiglass as her primary medium. "My vase series encapsulates a visual journey into Mother Earth. Flowers, plants and birds make up a borderless and hollow vase. I fuse these elements to juxtapose themes of freedom vs imprisonment and birth vs rebirth at the forefront."

Zaina El Said:
With her intricately layered collages, Zaina experiments with the relationship between humans and their environment. Usually resulting in a romanticised depiction showcasing humans as one with nature, making it difficult to differentiate the figure from its surroundings.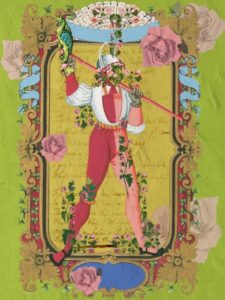 Dana Barqawi:
As a multidisciplinary artist using materials like acrylic paint, ink, thread and gold leaf paper, Dana's artistic creations are inseparable from the real world. Through the lens of nature, Dana challenges colonial narratives, explores indigenous identities and aspects of womanhood and community.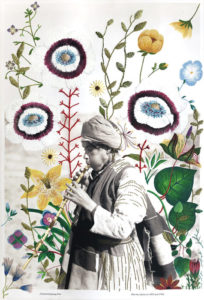 Tarsila Schubert:
As a street-artist, Tarsila is deeply connected to her environment. She interprets scenes of nature through an abstract lens. With a multicultural background, being born in Brazil but residing in Dubai, her method incorporates the diverse and complex inspirations of her surroundings through strong colors and chaotic yet simplified structures.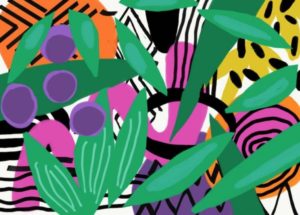 Lena Kassicieh:
Known for her whimsical collages and playful colours, Lena's view on nature is very much reminiscent of our childhood experiences with nature in our everyday life. "As someone who works with ceramics, I was gravitated towards creating a vase inspired by elements of traditional Victorian vases that you would commonly find covered in dust in your auntie's formal living room holding both real and imagined flowers in pastel hues."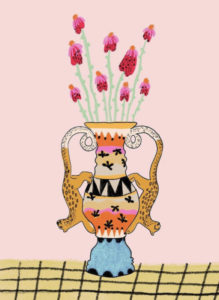 The environment in which we spend time is important for our health and wellbeing. As we continue to look for ways to beautify our surroundings, art can open our eyes to the intricacy and beauty of the natural world. Whether that be a simple depiction that appreciates nature for what it is or a challenging work that explores our complex human connection to nature. Regardless, there is no doubt that nature gives us purpose.