Taher's spontaneous and rich assemblages of layered forms, vibrant colours and expressive gestures challenge us to connect with our imagination and inner emotions. This week we sat down with Taher to hear more about his creative approach to painting and the inspirations behind his latest body of work on Emergeast. 
What sparked you to become an artist and what were your early creations? 
I've always been compelled to be creative with my mind and hands since I was a child. My mother used to tell me that I enjoyed destroying toys because it allowed me to break them down and create something new. As a former engineer and finance professional who has also dabbled in acting for years, I've always felt most fulfilled while creating art. When I lived in Paris, my first creations were paintings and drawings. Another turning point in my career came when I sold one of my works at an Emergeast auction in Dubai, which boosted my confidence early on in my career.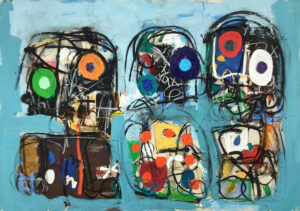 First Day in Junior High by Taher Jaoui
Your work is an ode to the Abstract Expressionism movement of the 40s and 50s developed by American painters such as Mark Rothko and Willem de Kooning. How would you explain Abstract Expressionism in your own words? 
I was first introduced to this art movement when I saw some paintings online by de Kooning. In a few words what I absolutely loved about it is its emotion and energy which is reflected in my own work and philosophy. The most essential thing, in my opinion, is to transmit emotion and energy through painting, and in order to do so, I must face the challenge of breaking down the method in order to establish a perfect balance. My experience as an actor has influenced some of this procedure. Consider how you would prepare for a scene by practicing your lines, but you have no idea how you would perform when the director shouts action, so you let go. This is similar to how I approach painting; I prepare some ideas and sketches before I begin, but once I begin, I try not to put too much thought into it. I follow the emotion of the moment.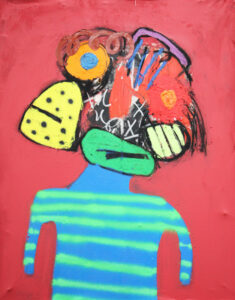 Humanoid XIX by Taher Jaoui
Your works are an amalgamation of vibrant colours, movement and layered forms. You said that there is an interactive play between you and a work, similar to a dance with a familiar partner. Can you explain that a little more about what you mean by this? 
Physicality is critical in my work because it allows me to transmit the intuition of the moment in an energetic way. I want to make every mark as alive as possible by developing a relationship with the canvas. This is the result of me putting myself in the shoes of the viewer. I want the viewer to be a part of the artwork. I consider it as a dialogue between myself and the painting, as well as between myself and the elements used, such as oil and movement. All of this is done in order to take the painting beyond its surface.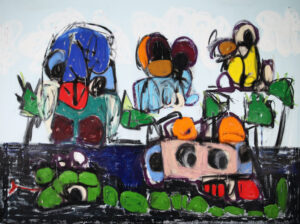 SnakeCharmers by Taher Jaoui
After lockdown there have been major developments in your work, you've been incorporating figurative elements that take center stage in some of your canvases. How did the pandemic and lack of human contact bring these more figurative elements onto the canvas? 
Since the start of the pandemic in March 2020, I've felt compelled to incorporate certain representational elements into my work. It is unquestionably linked to all of the new conceptions of social separation as well as the fear of any kind of human touch. I had to to include a representation of the human body as the focal point. It's been a long road, and it's only getting started. While staying true to my basic approach, I experimented with diverse medium, forms, colors, shapes, and processes.
Taher, one thing we love doing in the office is aside from appreciating the dynamic vitality of your works, is looking at your titles because they're packed with sarcasm, playfulness and humour. We always wanted to know how do you come up with these titles? 
This has a connection to cinema because it is another of my passions. Many of the titles are taken directly from movie scripts. Movies that I enjoy, movies that I have seen several times, or even music that I listen to. Each title is linked to a certain painting. Because I'm discussing my own experience, whether it's an emotional one with a partner or a friend, the titles are sometimes quite personal. The title of the work almost always has a backstory.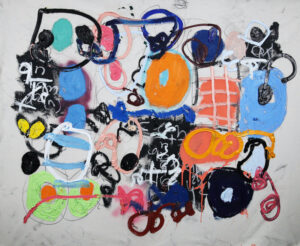 King for a Day by Taher Jaoui
Now you're presenting a new body of work on emergeast.com that is an amalgamation of all your previous symbols and abstract forms and your figurative and primitive elements. What are the themes and inspirations that are present in this latest body of work?
Since I began painting, I was always fascinated by ancient civilisations and types of art from Africa, particularly African masks and sculptures. I've always wanted to relate to this sort of art while incorporating it into my own work and more current forms of expression such as Abstract Expressionism, Cubism, cartoons, and Pop Art. I've recently become interested in digital art, such as glitch.
What message, if any, do you wish to convey to your audience or collectors?
Inspiration. This is my goal, and it is my job. In the end, I want to inspire people by providing them with something positive, dynamic, and joyful to add to their daily lives.
Flash Time with Taher 
What's your favourite object in your studio?
The sofa, it's a black Roset Togo sofa. It's my travel companion, having accompanied me to five studios in three countries. It's a place for me to ponder and connect with the studio's various parts.
What's the biggest highlight in your career so far?
An almost sold out booth in Hong Kong Art Central in 2021.
What's the thing you look forward to most when starting a new painting?
Disconnect my brain.
What type of music do you listen to when producing art? Any song on repeat?
Music without lyrics, such as classical, electronic, or movie soundtracks. Ghosts of Nine Inch Nails (2020).
For Taher's full profile click here.