Elham Etemadi, born in 1983 in Shiraz, Iran, currently resides in Lyon, France. Having completed her PhD in Fine Art, Etemadi uses a theoretical approach to her artworks by creating impulses through a game of colour. She creates subtle yet expressive discourse - her subject matter combines the traditional and contemporary whilst maintaining a synergy between the two. The Emergeast team headed to Elham's studio in Paris to discuss her works.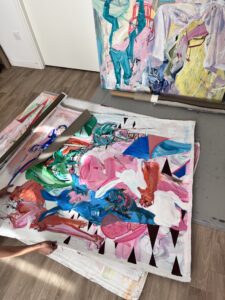 Emergeast: You studied Mathematics. How do you incorporate your mathematical studies into your work?
Elham Etemadi: I infuse my mathematical background into my paintings by embracing geometry and structured elements. While I'm typically logical and pragmatic in my daily life, my artwork provides a canvas for me to break free and explore the harmony of mathematical precision in a more creative and expressive way.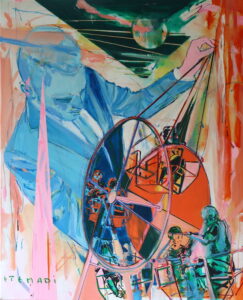 Emergeast: Can you give us a little more insight about your work?
EE: My artworks delve into the interplay of personal memories and nostalgia, capturing the essence of cherished moments. They also venture into the dichotomy between our inner worlds, rich with emotions and dreams and the external realities we inhabit.
Emergeast: You have been slowly moving into using oil based paints instead of acrylic. What inspired you to do that?
EE: I've started using oil paints because they offer me a more spontaneous and fluid creative process. With acrylics, I find myself constantly reworking layers, which feels like a struggle. Oil paints allow me to capture my vision more effortlessly, as what emerges in the first stroke often becomes the final result.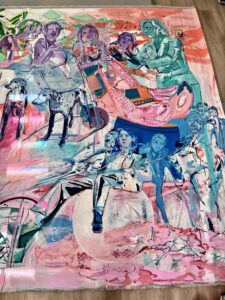 Emergeast: What's the significance of the reappearing Dalmatian dog in your paintings?
EE: I incorporate Dalmatian dogs into my paintings to introduce a striking contrast in color palettes and to symbolize strength. The Dalmatian's unique appearance and strong, enduring nature add a captivating element to my artworks.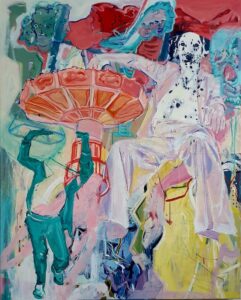 Emergeast: Do you plan your paintings in advance?
EE: I don't plan my paintings in advance. I prefer to let the work unfold in the moment and guide me. This allows for a more organic and intuitive creative process.
Emergeast: How long does it take for you to finish a painting? Do you focus on one at a time?
EE: It typically takes me two to three months to complete a painting, and I often work on multiple pieces simultaneously. While I'm working on one painting and mixing colors on my palette, I sometimes stumble upon the perfect color for another painting in progress which shows the interconnectedness of my creative process.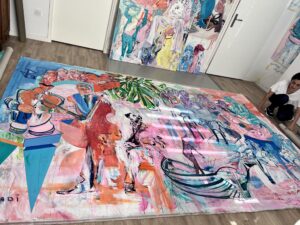 Emergeast: How do you hope viewers will connect with and interpret your paintings?
EE: I hope viewers of my paintings find inspiration in the diverse elements and colors I incorporate and are encouraged to create their own unique stories.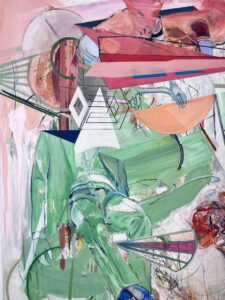 Emergeast: Can you share a sneak peek into any upcoming projects or themes you plan to explore in your work?
EE: I'm thrilled about an upcoming project with Emergeast, where my works will be showcased in Los Angeles next year. It's an exciting opportunity to share my art with a new audience.
View Elham's full profile
here.