Henri Abraham Univers' work conveys universal themes of love and unity through his signature cosmological symbolism. In his latest show on Emergeast.com, Henri uses this universal lens to explore the depths of female empowerment. We sat down with Henri to hear more about his creative practice and inspiration behind his latest body of work.
With a background in film as a graduate from CLCF (Conservatoire Libre du Cinéma Français) in Paris, who or what inspired you to transition to becoming a full time artist?
I was eventually taken over by my love for painting while at school in Paris - a medium through which I rapidly recognized it was easier for me to express myself using a canvas and a paintbrush.
Born into a mixed heritage family (Burkina Faso - France) and growing up in Ivory Coast - how has your diverse culture altered your worldview?
Growing up in Abidjan, Ivory Coast, I was surrounded by a multicultural environment from an early age, which had a direct influence on my works.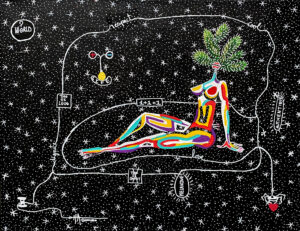 Plage 2, Femme Cactus series by Henri Abraham Univers
Your works are distinguished by your cosmological landscapes and universal themes of love and unity. How important is it for you to have a signature style versus following current trends?
I don't aim to be different from trends. They come and go. My focus has always been on my work and the best ways to share some emotions and visions of the world. All the symbolism in my work come intuitively to me. I am an unattached electron with its singular artistic expression.
The theme of the exhibition is inspired by your signature woman figure 'Femme Cactus', who is she and what does she represent?
The "Femme Cactus" is an authentic woman. She is the epitome of femininity. Because she incorporates all of the faces of all women at once, she is faceless. It allows everyone to read and appreciate her in their own unique way that relates to themselves. What is certain, is that she is a woman who longs for freedom.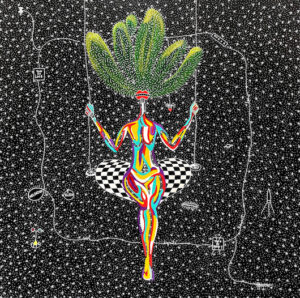 Balançoire, Femme Cactus series by Henri Abraham Univers
How important is it for you to champion women through art?
The female figure appears frequently in my works. I like the significance of women in human history. It definitely motivates and inspires me. In the Mossi ethnic group (Burkina Faso) it is said that the woman is the hut which means she is the bedrock of the family and of society.
Who or what are your biggest artistic influences?
Our planet is a work of art. Everyday life inspires me, people, anecdotes, silence, noise, music, travel, feelings. I really like Picasso for his artistic freedom, Basquiat for his spontaneity, Bacon for his madness and authenticity, then Warhol for his avant-garde approach. I can be moved, in equal measure, by the work of a great master or that of a child.
Traditional Burkina Faso mask's motifs, inspire me a lot. The black, white, and red images on these masks signify the social and religious laws that people in the villages must follow. Some of the patterns have black and white checkerboards, while others resemble a target, and zig-zag lines indicating the ancestors' path. None of these designs are intended to be decorative. These are pictures from a larger writing system that can be deciphered by anyone who has been "initiated".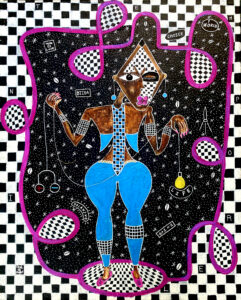 Biiga Pink Addict by Henri Abraham Univers
What's one message you wish for viewers to take away from this exhibition?
My paintings are melodies in which everyone can create their own songs.
What has been an important milestone in your artistic career so far?
My acceptance into the 246th edition of the Royal Academy of Arts' Summer Exhibition in London. Being self-taught, this recognition was like a green light for me; it gave me confidence. Doubt pushes me forward in my work, because it challenges me. From then, everything began. It became my full-time job.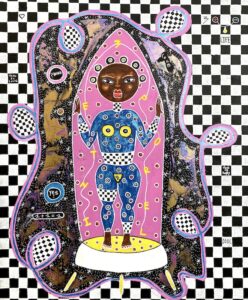 Ashanti Rocket by Henri Abraham Univers
And finally, how would you describe the energy of your work in one line? 
 A little sincerity and love. Every star I create is dedicated to an Earthling.
View the exhibition here.