We sat down with emerging Tunisian artist Myriame Dachraoui to welcome her to the Emergeast family and find out more behind her practice. Translating her inspirations between different media, Myriame is drawn to exploring the connection between her inner child and adult self vis-a-vis characters derived from her surroundings and fantastical world. Join us while we get to know Myriame's thoughts and acquaint you with the intimacies of her subjects and unique color palette.
Hi Myriame! Welcome to the Emergeast family - we're so excited to share your art with the world. How would you describe yourself in 3 words?
I would say passionate, sensitive and mercurial.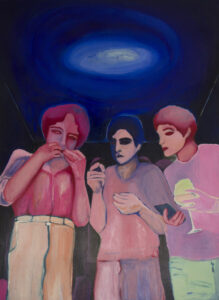 Tell us more about your background into becoming artist and the themes and dialogues that drove you to where you are today.
Two years ago, during the pandemic, I experienced severe anxiety as a result of isolation and the events unfolding around me. To deal with this, I turned to painting as a means of self-expression. This period significantly influenced my work, leading to a notable shift in the themes and colours I explored. As I transitioned from my previous profession to becoming a full-time painter, it became essential for me to delve into self-exploration through various techniques of representation.
Can you tell us a little bit about what inspires you and how you began your journey as an artist?
I draw inspiration from dreams, my childhood neighborhood, stories of my friends, and fantastical realms. In my early paintings, I tried to represent this entire world. I wanted to capture different stories, whether they were real or just a part of my imagination. Can you tell us a little bit more about the characters in your work? Who do they represent? 
These characters represent me actually. Sometimes, they portray a woman, other times teenagers or boys. I'm not sure why the gender of my characters varies, but they always depict an inner state of mind. Typically, they are static and positioned in contemplation, disconnected from reality
Your works exhibit a very distinctive color palette, can you tell us a bit more about the symbolism if any behind the choice? 
My palette is dominated by various shades of blue, when other colours are a research for vibration. Blue holds profound significance in my life. I consider myself a "blue person," not necessarily synonymous with sadness, but rather indicative of my sensitivity. To me, blue represents the realm of dreams, memories and late night wonderings.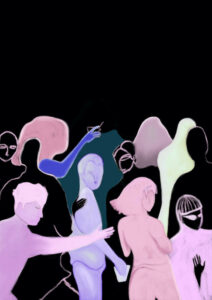 How has architecture and cinematography influenced your art?
I have always found it fascinating how architecture can influence and reveal information in movies. I'm thinking about movies like "The Shining", "Vertigo", and "The Invisible". In my own work, I aim to create a similar parallel.
What is your favourite subject matter to paint?
I like to paint characters a lot, I like to tell stories.
Your art is very poetic, and the use of color lends it an air of mystique. How would you describe your artistic style?
I'm not quite sure if I can label my work under any specific style just yet, but I'm really keen on developing more of a "magic realism" vibe in both my technique and subject matter.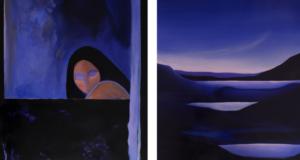 Where can we imagine Myriame drawing inspiration from when you're not painting? 
I find my inspiration when I take time to be alone and reflect deeply. I also find inspiration by studying the works of artists I admire, both contemporary and classical. By learning about their techniques and colour palettes, this helps me visualize my next work.
What would you like viewers to take away from your work?
I believe that everyone tend to see and feel my work in a different way. Sometimes people see things I've never thought about while painting it. I do not have any control on this and this is the most interesting part actually.
FLASH TIME WITH Myriame:
Favorite object in the studio?
My newest brushes
A song you play on repeat?
Your cover's blown by Belle and Sebastian
When is your favorite time of day to create?
In the morning when the light is the best
An artist you'd like to collaborate with? (dead or alive)
I would love to collaborate with artists from different fields such as music, literature… The first name that comes to my mind is Marjane Satrapi
To view Myriame's full profile, click
here
.