We are excited to introduce Qatari artist Mubarak Nasser Al Thani as the latest creative to join Emergeast's roster of artists. Working with Mubarak is part of our a continual effort in supporting artists from Qatar and the larger region, especially with the momentum that the local arts & culture scene is witnessing while gearing up to the FIFA World Cup. We sat down with Mubarak to hear more about his inspirations and about how Qatar's current art scene impacts his work.
1. What is the inspiration behind your works?
I am inspired by many things; dimensions, colors, geometrics, abstraction, and literal expressionism to capture cities, skylines, horizons, interaction, culture, history and politics.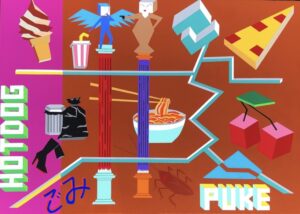 Culture, Acrylic on canvas
2. How does your identity / cultural heritage influence your work? If it does at all.
Yes, I like to depict visuals from my culture and cultural experiences. These experiences and visuals which I grew up with influence my art and what I choose to paint. For example: palm trees, desert, sand dunes, bonfires, night skies with moon and stars, gahwa pot, Doha skyline and more. I am also influenced by patterns such as the triangles from our flag or the sadoo from our national cushions and traditional furniture.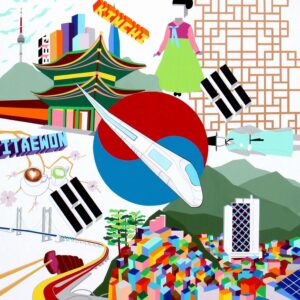 From Seoul to Busan, Acrylic on canvas
3. How do you feel the World Cup will impact Doha's cultural development in the region?
I feel that the World Cup has boosted the art scene and art-related activity in Doha. We are under the microscope and getting much attention from around the world. We are also getting commissions and opportunities to showcase at galleries from around the world. As for the larger picture, I think the tournament has enhanced and quickened Doha's cultural development as it has become more of a global destination and a spot for cultural exchange due to the immense diversity present within the population.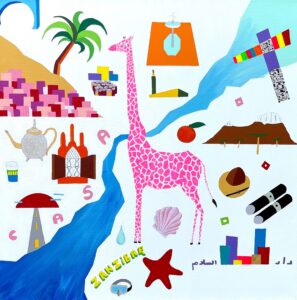 Africana, Acrylic on canvas
View Mubarak's full profile here.