We are excited to introduce Tunisian-Finnish artist Dora Dalila Cheffi as the latest creative to join Emergeast's roster of artists. We sat down with Dora to hear more about her inspirations.
Hi Dora! Welcome to the Emergeast family - we're so excited to share your art with the world. How would you describe yourself in 3 words?
How to describe myself in three words.. Such a hard one - hah! I guess I'd like to think that I am playful, loving and dramatic.
Can you tell us a little bit about what inspires you and how has that changed over time?
I am constantly inspired by people, stories and the life around me. Visually I love things that are a bit obnoxious, bold and imperfect. My interests constantly change but I think the core feeling/idea always stays the same. I love people and I find comfort in trying to visualise the balance between what's uncomfortable and pleasing. I think we need to experience a full spectrum of emotions in life to feel like we have truly lived.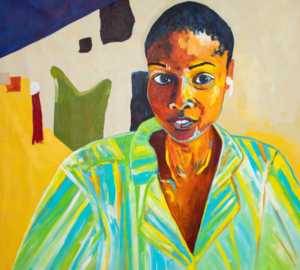 Tacit, Trust and Tender Tongues, Dora Dalila Cheffi
Your exhibition 'Prestige' was centered around the idea of women and marriage, why were you drawn to the subject?
I started thinking about the subject when I had just turned 30-years old and was seriously wondering what are the things that are celebrated in life especially from society's point of view. Marriage, kids and what? Prestige was a big wedding celebration. Mine and no one's at the same time. It's a little bit hard to explain briefly because there are so many nuances behind every single piece that was created for the show but let's just say that I wanted to have a wedding without getting married so I made the work instead.
Your paintings on emergeast.com are vibrant, dynamic, and showcase your distinctive use of bold & brilliant colours. Can you elaborate on how you developed this unique style?
I never actually choose colour - it was always just something that I felt naturally. Even when I was studying photography I never found black and white photos appealing. I love finding the perfect balance between colours and seeing how they communicate together. I don't use any black in my paintings because I feel like it created too big of a contrast between everything else. It's funny cause I actually love dressing in black.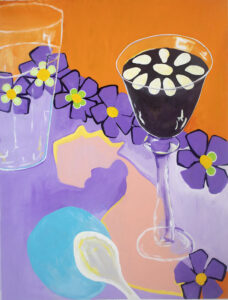 It's a Boy, Dora Dalila Cheffi
How does identity play a role in your work, if at all?
I don't think identity is something that can be avoided when making personal work. And if it was, then what would be the point? We are all products of our surroundings and our personalities are built based on our culture(s) and experiences in life. Visually, in my work, sometimes for example the cultural identity is much more visible but even if it's not, it's always there.
You base your paintings on inspirations from photography. How has it been moving away from that ? Do you see yourself going back to that initial style of working?
My background in photography has helped me a lot to develop a style of paintings that represents me. I used to work quite strictly using photographs I have snapped on my phone as a reference but then it started to feel a little restricting. So now I'm moving towards building the image from several different moments using photos, sketches and imagination. My work is very intuitive so a painting changes many times during the process according to my mood and what story I feel like it tells.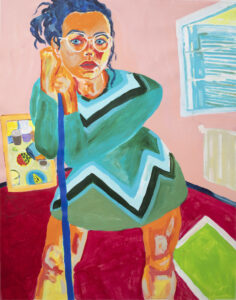 I Don't Cook, I Don't Clean, Dora Dalila Cheffi
You are currently doing your residency in Cape Town, how is this time influencing your artistic production?
The residency in Cape Town was an amazing opportunity to get away from my usual visual surroundings and it gave me courage and freedom to try different approaches to working. It's amazing what a little change of a scenery can do.
Flash time with Dora!
1.Favourite song to listen to while painting? 
I listen to a lot of audiobooks while I paint. In 2022 I listened to 31 books and the subjects vary from autobiographies to detective stories. I also listen to true crime podcasts for some weird reason. My music taste is all over the place; it goes from rai music to finnish folk music and everything in between.
2.Most memorable experience in your art career so far?
The vernissage of Prestige when I had asked all my friends to make their versions of wedding cakes, my mom made a beautiful speech and then we wildly danced on a rooftop to Tunisian wedding music.
3.If you could collaborate on a work with any artist, who would it be?
There are many I'd like to work with but even more that I'd like to sit and watch working or have a conversation with. One of them being the legendary portrait painter Alice Neel.
View Dora's full profile here.