With a career spanning two decades, Amr Ali is an established Omani creative director, art director, designer, design consultant, image maker and artist. We sat down with Ali to hear more about the inspirations of his latest work that explores the transcendental journey of love and beauty.
Hi Amr! Welcome to the Emergeast family - we're so excited to share your art with the world. How would you describe yourself in 3 words?
It is a joy to be a part of the Middle East's advent scene, which embodies my desire to highlight the region's authentic creative culture. I've combined a variety of expositions in my series to convey different aspects of my path of self-discovery, faithful, inquisitive, and occasionally controversial.
Can you tell us a little bit about what inspires you and how you began your journey with fine art photography?
This body of work was inspired by the Omani landscape, geomorphology, deeply ingrained culture of faith, and the folklore; all of which has contributed so much to the unique identity of the country. After living in London for nearly 40 years, I felt compelled to rediscover myself within my own culture.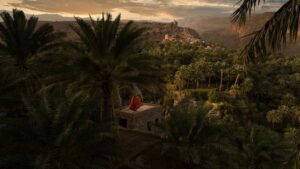 There's obviously a strong sense of identity in your series - can you tell us more about the identity dialogue taking place with each frame?
It's a visual narrative …I express a journey of repentance that takes you through a ritual process of cleansing, healing, discovery, awakening, and transcendence to reach that inner state of enlightenment and power within oneself. This oeuvre can be appreciated as a single frame, a triptych or as a whole through a series of nine images. The Journey in this series commences with complete submission that took place during "Repentance", followed by a ritual cleansing portrayed in "Ghousoul", which then leads you to what appears at times to be an endless search for answers - the "Ultimate Truth" - symbolised by the trinity; versions of oneself.
My favourite scene - "Revelation" depicts "the mother of all outcrops" with its magnificent and rare creation formed over 80 million years ago; when mantle was exposed over the Earth's crust. Like the truth; it unfolds with layers of consciousness now revealed.
As a pioneer in the international fashion arena, how would you describe your creative direction?
I'd like to think of it as ever evolving, and thought provoking.
Your works on Emergeast are otherworldly. Most of them, depicting a figure in relation to a vast landscape. Can you explain this connection and what location these were taken?
The vast landscapes are there to depict the expanse of the mind, combined with the five elements of nature. The images themselves can be viewed as dark or light, depending on your state of mind.
You mention how your works relate to the 'Soul Journey'. What would you like the viewer to take away from your art?
To take a deeper look into their own journey and identify with their truth and existence.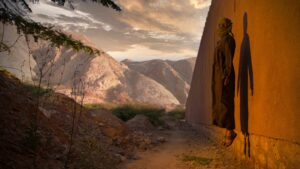 Transcendence, Digital Photography
What impact do you see your work having on the Middle East's arts & culture scene?
Given that this is my first launch into the Middle East's arts and culture scene, I am keen to actively participate and network with like minded who carry the same passion. I believe that the art scene in the Middle East is truly understated at the moment, and I believe that artists should be allowed the space to create and engage with freedom.
Any exciting projects coming up for Amr Ali?
I am currently curating interiors for a number of villas in Muscat. As well as setting up an online shop selling vintage collectables and Art.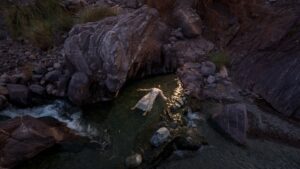 Repentance, Digital Photography
FLASH TIME WITH AMR
1.Which artist and fashion designer would you have dinner with?
John Galliano
2.If you could travel anywhere in the world for a shoot, where would you go?
Afghanistan and Syria
3.A motto you would live by?
Be the change you wish to see in the world.
View Amr's full profile here.