Looking at Elham's works instantly teleports us into a wonderland of symbolism and mystical tales. While not so long ago we were unsure of how the pandemic and collective hardship would affect artists' creative practice and production, we now are witnessing the birth of new approaches through Elham's current show. With beautifully demonstrated grace and perseverance, Elham used her time in the pandemic to work intentionally, redefine her technique and develop her practice in a way that reflects her authentic rhythm of life.
What or who inspired you to become an artist, and how old were you?
Painting has long been an outlet for me, a therapeutic activity ever since I was a child. From as early as kindergarten, I remember how excited and passionate I was when it came to art class in school. This feeling alone inspired me to pursue painting, not knowing where exactly where it would take me.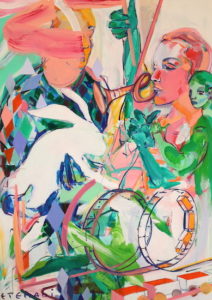 Magical Life, Sold
You've obtained not one but two Masters of Arts in Fine Arts! One from the University of Art in Tehran and the other from University of Strasbourg in France. How has your higher education guided you to develop your unique artistic style?
Amongst other factors, my skill set and the way I express myself was largely shaped by my Masters. During my Masters in Iran, I was lucky to be taught in a way that was not only focused on exploring my own practice but also art in a broader sense. The teaching of the technical do's and don'ts in the art landscape enabled me to confidently develop my authentic approach to painting and discover my signature style, which was very rewarding.
Focusing on practice and repetition allowed me to consider the rights and so-called wrong doings of one's work while enabling me to find my own artistic voice. Having said that, I was also learning through reading, observing and engaging with fellow artists, whom each had a unique approach with their work.
You mention that your work exudes what you call "visual vitality", how do you achieve this through your brushstrokes and technique?
Being in the present moment is crucial – to not think about the past or the future, I think this for everything I do in my life and in my painting. When translating this philosophy into an art context, vitality needs to transfer onto the canvas. I reflect and embrace the essence of the present moment through the variety of angles that make up my artworks, such as movement, rhythm and basic elements that have to be unlearned and relearned. To me, it is precisely these elements that characterize a present moment; one with life, rigour and movement - and hence a visual vitality. Once learnt, it becomes intrinsic to the artist to apply.
For me, I like to capture ever-evolving aspects of life like seasons, relationships and colour palettes that continuously shift between different shades. My work is about capturing the minute-by-minute transformations all around us that reflect the ever-changing nature of human feelings and experiences.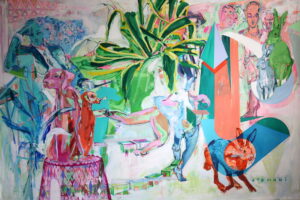 Sweet Reminders, Acrylic on Canvas
What is the importance of storytelling in art? How does this pertain to you as an artist?
This is a very important question for me regarding my practice. I believe the relationship between the viewer and the artist is bound by storytelling - it's what connects the subject matter to the audience. I aim to show my audience a starting and an ending point of my message - why and how I say it, how I can communicate my story from a subjective standpoint to an objective one. Rather than forcing a specific narrative, the goal is to stimulate a response based on the viewers' own perspective and ignite their imagination.
During my childhood in Iran, I grew up in a household that was greatly influenced by poetry and literature. Throughout my upbringing, ancient tales and poetry were like a second language at home. Poetry surely runs in our genes – we have two well-known poets in our family and both my grandmothers made sure I read plenty of books which definitely helped shape my imagination and outlook on life. This influence naturally manifested itself through my art. My upbringing also inspired my thesis topic in University to be on the Shahnameh, The Book of Kings by Ferdowsi, specficially on the women that were featured in the book. Poetry and literature were always and will always be alive in my mind.
"I believe the relationship between the viewer and the artist is bound by storytelling - it's what connects the subject matter to the audience."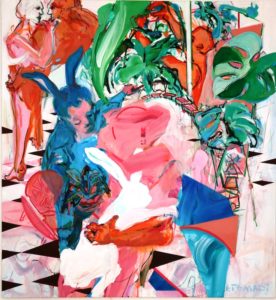 Warm Arms, Acrylic on Canvas
A lot of your paintings include elements of plants, flowers, nostalgic childhood memories and circus objects. How much of these elements come from your reality and how much from your imagination?
I use these elements as tools in my paintings to tell a story. Without these elements, my message would be unclear, they're integral to expressing my own unique story and of the stories I hear around me. I've always wanted to be a storyteller. Even as a child, stories were always so exciting, and I always thought I'd become a writer or a poet. But when I realized that visual art was my calling, I immediately redirected myself to painting and used it as my primary medium to communicate. These elements, therefore, coalesce together to form the energy and visuals of a particular scene in my story.
Your work showcases a balance between structure and spontaneity with expressive figures usually met with abrupt lines. Can you explain how this contrast comes about?
Elements adjacent to one another need to be studied carefully and hence controlled. It's the main priority of all of my paintings. They have to come together just right and complement each other like two lovers. These two separate realms need to live in synchrony similar to the 'perfect hug'. When thinking about how to structure these elements, a relationship between the two needs to be created. If I lose focus of this, the romanticism fades away as the works become monotonous and heavy. Craziness and sensibility go hand in hand with creative expression - if one is more than the other, the work is simply not in harmony and the desired impact is lost.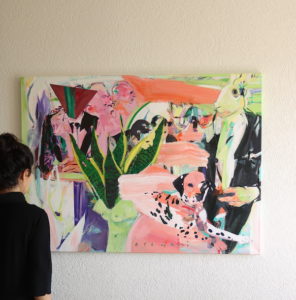 Long Silence by Elham Etemadi in her studio in Lyon
Your distinctive colour palette is made up of pastel hues contrasted with bold and striking shades, what calls you to these signature colours of yours?
Colour is a core fundamental to any artist's work. To me, a choice of colour is freeing in and of itself, as it is mainly through colour that artists can materialize their story. It takes a lot of courage to combine different colours, as Gaugin once asked "How do you see this tree? Is it really green? Use green, then, the most beautiful green on your palette. And that shadow, rather blue? Don't be afraid to paint it as blue as possible." When you look at artists such as Gaugin and Matisse you learn about how to specialise in colours and really get acquainted with what speaks to you as an artist. I don't want to be known as just a painter, I want to be recognized for my colours and having a striking colour palette.
I believe that the choice of colour makes up the DNA of an artist's body of work. The miracle of the end result is in the colours itself, the way a combination of certain colours can give life, meaning and shape to a painting is magical. For example, when you go to a room and see a large work by Gaugin, the allure is undoubtedly in the colours. The same amount of time spent on creating the artwork canvas, should also be spent on mixing and creating the right colors in the right light. An artist's palette is like a word to a poet.
How is your Middle Eastern identity, culture and heritage highlighted in your work?
I am specifically inspired by Iranian miniatures and the craftsmanship behind it. I appreciate the way they used to mix colours courageously. Yet, interestingly when I paint I don't think about these miniatures, they might subconsciously influence my work but when I paint, I focus more on the present, the society I'm currently living in and the influences that shape my every day and make up a collective status quo.
What message would you like your audience to take away after looking at your art? 
We are used to reading pictures in our society. In my paintings, I want the viewer to empathise with the characters and focus their gaze on something else.
It's not so much about the concept as it is about what's happening on the canvas. Painting is a thrilling and necessary activity. I'd like my viewers to be a part of the visual vitality.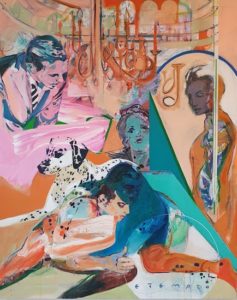 Wonder Room, Acrylic on Canvas
Can you explain a bit more about the character development and the subjects of your paintings that have developed tremendously compared to your earlier work? What inspired you?
Given the year or so we have had as a collective society, intention played a large role as a prevalent theme in my work. The relationship between the colour palette and subject matter was more thought out for a distinctive and recognized result as opposed to my previous approach which was more abstract and guided by an unconscious flow.
The relationship between interconnectivity and intention stands front and centre in my latest series, there is a definitive relationship between each character and element. I used to approach each of my canvases as separate entities in one work, yet now, I look at it as a whole, coming together as one. To me, that's what made my message stronger as it geared towards inclusivity and wholeness. If an element isn't playing an important role, it shouldn't be there as it's not reflecting accurately our interconnected reality.
"Recently I've tried to eliminate this extra 'noise', because ultimately if the last year has taught us anything, it is to eradicate the unnecessary chaos that surrounds us and focus on that which is meaningful and forward-facing."
The busyness in my paintings reflects my state of mind and the fast-paced world that we live in; the things I hear,  see and feel are all elements I absorb from our society. The new reign I have on my life and how I am in control of what I let in is therefore reflected in my work. A busyness that I'm trying to put in order, finding balance and harmony throughout it all which is what my solo show, Unveiling Realities, ultimately conveys.
View Elham's solo show,
Unveiling Realities
,
here.