Love is a feeling, a verb, a celebration, an experience. Choosing an artwork for yourself or a loved one can be an incredibly personal experience. At Emergeast we believe the story behind an artwork makes it all the more powerful. Here are a few examples of how art exudes love in all its shapes and forms.
Antar and Abla by Lena Kassicieh
"Growing up, the story of Antar and Abla was always my father's favorite poem, and whenever I would ask him specifically about Arabic books or poetry he liked, that was the one thing he always mentioned. In hearing him tell me the story, I imagined this really vibrant and somehow chaotic world, and wanted to bring that to life in the way the story does with the characters."
Hugging by Anas Homsi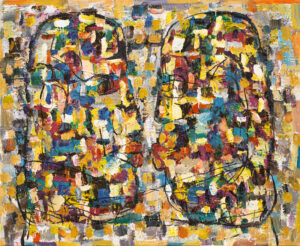 "Beautiful memories, family, friends, and unforgettable moments always have a special place in our hearts. In this painting, I present one of these special moments stored in my memory by drawing the faces of a group of people from my past chatting away. The conversation is immortalized in my mind and I wanted to crystallize this special memory in our physical reality. Because I hope someday I get to go back to that conversation and hope everyone has their Somedays again soon."
Binomial Love by Farbod Mehr

"Binomial love is inspired by Khayyam poetry and triangle which we know as Pascal's triangle. In mathematics, Pascal's triangle is a triangular array of the binomial coefficients that arise in probability theory, combinatorics, and algebra. In this artwork, I swapped the ones' with lovers since we are all one."
Habibi Tala by Ibi Ibrahim
"The work, Habibi Tala, was shot by the artist in the old city of Sana'a in Spring 2013. With the characters dressed in traditional northern Yemeni garb. Their whispers carried out by their eyes. Not glances, whispers of longing and mystery. The rush of beginnings. The unspoken, the taboo. Engulfed by her colorful clothes, mesmerized by his sharpness. It's a tango unseen between two hearts and two souls. Two bodies becoming one".
Peaceful Prayers by Helen Zughaib
"Prayers for Peace is part of a series I began after the wars in Iraq and Afghanistan. I was so devastated I could not think what I could do, so I thought about the world coming together to pray for much-needed peace."
Browse the gallery here.