Iranian visual artist Ahoo Hamedi is well known for her mixed media works that are no less than a visual feast. With an exhibition history in Tehran's most notable galleries and a practice sectioned to the seekers of ethereal beauty and imagination, we sat down with Ahoo to find out the secrets behind her new figurative works, signature plexiglass, her visions and more!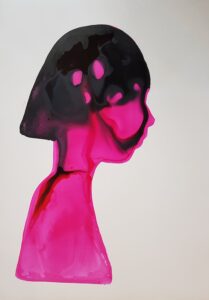 Untitled by Ahoo Hamedi
When did you decide to become a visual artist?
As a child, I was very drawn to the visual arts and found I could easily depict my visions creatively. I studied graphics at the art school in Tehran and then went to complete my undergraduate degree in painting. Fortunately, I was on my way quickly to fulfilling my childhood aspirations!
Your style is ever evolving, from painting to watercolour to plexiglass. Talk us through this...
I am fascinated by water based mediums and what they exude. Transparency, lightness and weightlessness are all very important to me and I found these in my use of ink and watercolour. Meanwhile, plexiglass has a shine that resembles "not yet dried" ink, and its clarity is in line with my work, sometimes even completing it with its eternal shine.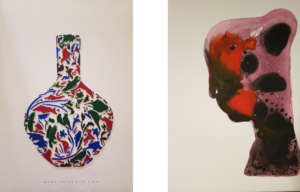 Untitled, Vase series & Untitled by Ahoo Hamedi
Which art trends inspire your current work?
Light, nature, humanity, weightlessness, and minimalism, all of which may be found in Middle Eastern and Far Eastern art techniques, have influenced my work.
Do you wish to highlight any part of Persian culture through your work?
The advantage of using plexiglass is that it transcends the work into multiple dimensions, by working with lighting and shadows there's so much to play with. Using plexi allows me to explore playing with these elements through my work to highlight a rich element of Persian culture: our traditional coloured glass windows. I recreate similar shadows to those prominent in traditional Persian culture: from religious places to traditional tea houses and public spaces, coloured glass windows adorn Iran to this day.  I also use elements such as plants and birds all inspired by nature.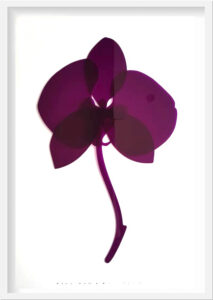 Flower by Ahoo Hamedi
Your plexiglass series was focused on Faune and Flore, whereas your new series focuses on figures, what inspired this change?
In general, I am inspired by what surrounds me. Figures, as well as nature, have always piqued my interest while painting. For each of my collections, I concentrate on a new subject. Figures and faces motivated me in this instance.
What's the story behind the figures you paint?
These figures are fictitious. They've simply emerged from my imagination. They do not have a gender, but are all human - that's what matters to me. They are similar to volcanic mountains, which are solitary and beautiful on the outside but are boiling and roaring on the inside.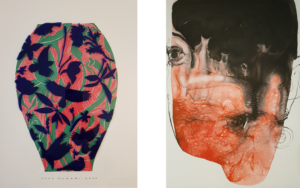 Untitled, Vase series & Untitled by Ahoo Hamedi
Art has the ability to shift viewers feelings and emotions. With your studio based in Iran, how important is it for you to share your story online with a wider audience? 
 Every object in my work leads to weightlessness and the feeling of being effortlessly transported into one's limitless imagination. The nature and/or human forms are positioned to activate the feeling of sightlessness for the viewer that will ultimately positively affect their mental wellbeing (I hope).
What other themes do you wish your viewers to take away from your works?
It's different, it depends on each painting, in my portraiture works you can feel the soul of the human that's the subject matter and how this ultimately resonates with the viewer is open to personal interpretation. In my vase series I want the viewer to enjoy a beautiful object but also to appreciate the development of our human civilization and history - fragile yet beautiful traditions where we are a product of this history.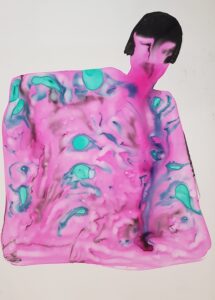 Untitled by Ahoo Hamedi
What message do you hope to convey through your works?
I prefer to leave it to the spectator to build her / his own impression and feeling when viewing my works. Ultimately, I feel that people, while living in different places, share the same understanding of art.
View Ahoo Hamedi's full collection on emergeast.com here!