An Effort and Emergeast are delighted to announce You Are Your Own Home the solo exhibition of Omani visual artist Mays Al Moosawi at Cromwell Place, London, 10 October until 16 October 2022. The exhibition marks the culmination of Al Moosawi's three-month An Effort residency.
In her debut solo London exhibition, Mays Al Moosawi explores self evolution.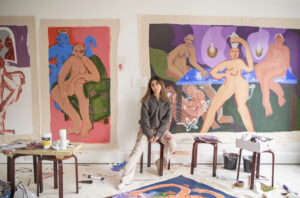 Her subjects and selves, composed within a variety of poses and domestic settings, are the central focus of this series. Within these scenes, she explores the concept of the home as a sanctuary, a space where women can let down their guard and be themselves.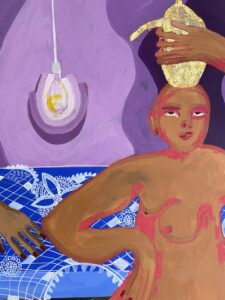 Whether through the immersive scale and bold strokes of her paintings, or the intricate details of sculpture, she imbues her pieces with a sense of intimacy that draws the viewer in and invites them to connect with the emotions and experiences of her world. Her use of jewel tones and rich colours adds a sense of warmth and vibrancy to these spaces, creating a sense of familiarity that is both inviting and captivating.
View Mays's full profile here.
An Effort Art is an art residency and cultural consultancy founded around narratives. It is a space for GCC artists who are exploring gateways into their thoughts, dialogues and futures. Artists have the opportunity to participate in talks, workshops and open studios to share their thoughts, inspirations and outlook throughout their time at the residency.
Click here for more information on this residency.