Emergeast and An Effort Art are delighted to present You Are Your Own Home, a solo exhibition by Omani artist Mays Al Moosawi. In her debut solo exhibition in London. Mays takes a deep dive into self discovery through contemplation and self reflection.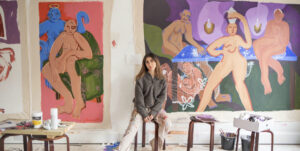 Her new body of work highlights the self, identity and who we truly are within ourselves when nobody is looking. She examines the idea of  home as a sanctuary, a place where women can let their guard down. She imbues her works with a sense of intimacy that draws the viewer in and invites them to identify with the emotions and experiences of her world, whether through the immersive scale and powerful strokes of her paintings or the intricacies of her sculptures. Her use of jewel tones and deep hues add a sense of warmth and vitality while also evoking a familiarity that is both welcoming and alluring.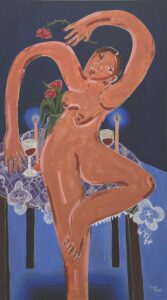 "I love it when people connect to my work  or see reflections of themselves. After all, we tend to experience similar things in life even though we might not be aware of it." - Mays Al Moosawi
View Mays's full profile here.
An Effort Art is an art residency and cultural consultancy founded around narratives. It is a space for GCC artists who are exploring gateways into their thoughts, dialogues and futures. Artists have the opportunity to participate in talks, workshops and open studios to share their thoughts, inspirations and outlook throughout their time at the residency.
Click here for more information on this residency.