Small Wonders, Vast Horizons
presents a  dynamic selection of original artworks  by the current shapers of the MENA art scene. We are thrilled to collaborate with Oceane Sailly for Hunna Art for this exhibition in presenting a collective of artists that are pivotal figures in shaping the burgeoning Middle Eastern art scene.
At the core of this exhibition lies a commitment to accessibility to art. We believe art is for all and should be an enriching experience available to all art lovers and enthusiasts. In this spirit, we have curated a selection of works that offer a compelling narrative, at an affordable price point, offering the opportunity to develop  your collection with these selected contemporary artists or embarking on your art collection journey with these fascinating stories.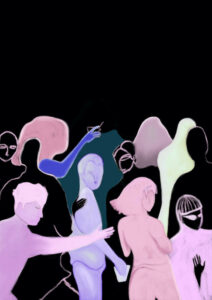 Late Night Tales by Miriam Dachraoui
Showcasing the works of 12 artists, including Bouthayna Al Muftah, Elham Etemadi and Alymamah Rashed,
Small Wonders, Vast Horizons
aims to illuminate the artists' personal journeys and emotions, bridging the gap between the personal and the shared into a universal human experience. Connecting to art allows us to curate fragments of our own personal narratives, creating a tapestry of beauty and meaning that is unique to each collecto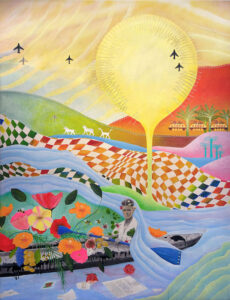 Mess-take by Dana Barqawi
This exhibition places a strong emphasis on the transformative power of art through smaller-scale artworks. Through painting, collage and photography,
Small Wonders, Vat Horizons
 underscores artists' ability to navigate the intricate balance between the diminutive and monumental.
*10% of the proceeds will be donated to the 
PCRF's immediate Gaza relief fund.