Iranian women have always been on the vanguard of transformative change; the lionesses who have stood up for their rights and refused to stay silent under oppression. The fundamental strength of Iranian women has always transcended into every aspect of Iran's landscape: cultural, socio-political and economical.
Through art, a vehicle of creative expression, contemporary artists have been at the forefront of documenting daily life in Iran. Here are just a few Iranian female artists that showcase a wide range of themes from the beauty and delicacy of Iranian culture to the resilience and strength of women through their powerful and thought-provoking art.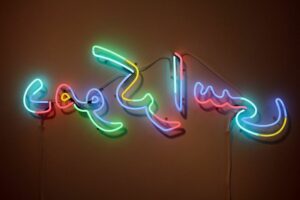 Democracy, Leila Pazooki
Renowned visual artist Leila Pazooki multimedia body of works address political, social and personal motifs across cultures.
"I believe the artist has an important role culturally, socially and politically. My message is about healing and rethinking; collective healing, collective rethinking and collective empathy. I hope that my work conveys this message." - Leila Pazooki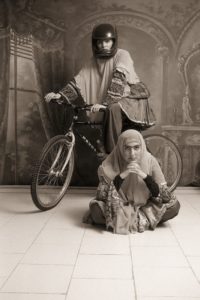 Untitled, Qajar series, Shadi Ghadirian
Leading contemporary photographer Shadi Ghadirian's series Qajar (1998), gave her well-deserved international recognition. In this timeless series, Shadi arranged portraits of women, mainly her friends and family, using backdrops and dresses reminiscent of the Qajar era (1785-1925), but made it relevant to today by adding contemporary Western props.
"My pictures became a mirror reflecting how I felt: we are stuck between tradition and modernity. This conflict between old and new is how the younger generation is currently living in Iran". – Shadi Ghadirian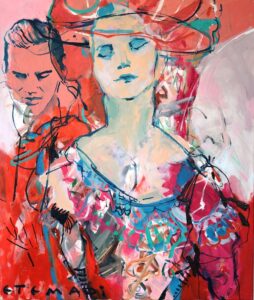 Reconciliation, Elham Etemadi
Elham Etemadi's work is an ode to her upbringing in Shiraz with her family and friends who then got dispersed post revolution. With beautifully demonstrated grace and perseverance, Elham's works reflects her authentic rhythm of life.
"During my childhood in Iran, I grew up in a household that was greatly influenced by poetry and literature. Throughout my upbringing, ancient tales and poetry were like a second language at home. Both my grandmothers made sure I read plenty of books which definitely helped shape my imagination and outlook on life. This influence naturally manifested itself through my art. My upbringing also inspired my thesis topic in university to be on the Shahnameh, The Book of Kings by Ferdowsi, specifically on the women that were featured in the book." – Elham Etemadi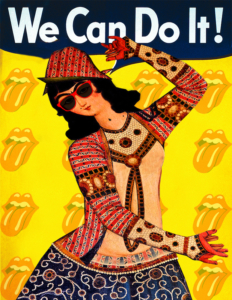 We Can Do It, Rabee Baghshani
Rabee Baghshani's East meets West works bring an unwavering timelessness to each artwork -  with the contemporary references and historical representations.
"When it comes to Middle Eastern women artists I emphasize that they are symbols of power, resistance and self made women. In Europe, USA and other developed countries, there were more facilities and chances for female artists to come on stage and get the most of their potential. But Middle Eastern female artists have to overcome the gender gap to achieve art world status, as the non Middle Eastern woman stands firmly on the art stage rather than back down in an industry dominated by men." - Rabee Baghshani
5) Ahoo Hamedi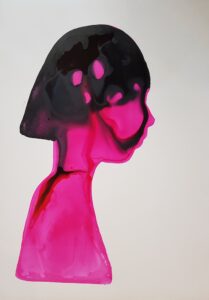 Untitled, Ahoo Hamedi
Iranian visual artist Ahoo Hamedi is well known for her mixed media works that are no less than a visual feast. Ahoo's works evoke ethereal beauty and imagination.
"These figures are fictitious. They've simply emerged from my imagination. They do not have a gender, but are all human - that's what matters to me. They are similar to volcanic mountains, which are solitary and beautiful on the outside but are boiling and roaring on the inside."