We are pleased to collaborate with M7 on curating Qatari artist Bouthayna Al Muftah's solo show, 'Anassir' (Elements), powered by progress. Marking our first solo exhibition in Qatar during one of the world's most anticipated events in the year, the 2022 FIFA World Cup, Anassir will unveil Bouthayna Al Muftah's much anticipated latest body of work.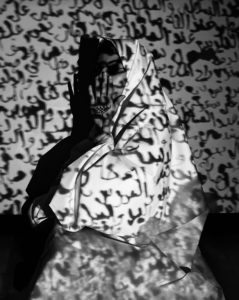 Anassir, Al Muftah's second solo exhibition in Doha, highlights the varied ingredients of her research on memory to reflect her native land's social collective fabric through her lens. Over the years, Al Muftah developed her practice across a variety of media from painting, photography, performance and printmaking. The exhibition will showcase an amalgamation of Al Muftah's multidisciplinary practice focusing on her 360 profound exploration on Qatari culture and its rapid development in a short period of time.
Anassir gathers different phases in time where the stories coalesce across space through a greater narrative, immortalising past experiences into a contemporary setting. At first glance, elements of ambiguity and abstraction prevail across Al Muftah's multipart show; however upon closer inspection, the viewer is invited to intimately engage with each part of the show to create discourse around these fragmented memories on display.
Through large scale articulations, Bouthayna Al Muftah's latest solo exhibition presents an immersive experience, offering a glimpse of traditional and contemporary culture through past and present in a multi section show unveiling two new series by the artist. "Fataraat" (Phases) and the breathtaking tapestry in collaboration with the world-renowned La Cité international de la Tapisserie in Aubusson supported by her work from her Residency with Fanoon – Center for Printmedia Research at VCUarts Qatar, in the series "In'ekas"(Introspection).
In the lead up to the upcoming historical FIFA World Cup in Qatar and with Al Muftah being the artist behind its official poster, this exhibition marks a monumental milestone for Al Muftah's rapidly growing career. As a prolific artist to watch from the region, Al Muftah's work serves as the storyteller for a country building on its rich past into a promising future.
Al Muftah's show will be presented as a virtual exhibition simultaneously on emergeast.com for a full virtual experience.
The exhibition will be open to the public on 9 Nov.
View Al Muftah's full profile here.