Inspired by positivity, nature, the four elements and space, Amelia's abstract work exudes positive energy. We sat down with Amelia to hear more about her journey to becoming an artist, her inspirations and more.
Give us a brief intro! Who is Amelia Hadouchi?
I am a painter and a dreamer who was born and raised in Montreal of Algerian ancestry. I see life as a game, and I enjoy the ride as I progress through the stages. Even in difficult situations, I can always find something to be thankful for. I'll be the happiest unicorn alive as long as I do what I love every day.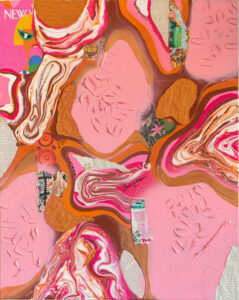 Groovy by Amelia Hadouchi
When did you realize that you wanted to become a full-time artist?
I was introduced to the arts from a young age. I've been painting since I was nine years old, and I've always wanted to be a full-time artist; I simply didn't know how to make it happen. It became clear to me after my first exhibition at Art Basel Miami in 2015. I was surrounded by accomplished artists, which foreshadowed my destiny. I was so inspired by them that I returned home convinced that I was going to do art for a living.
Your work has been described as hypnotic, detailed, and calming. What are the primary inspirations behind your work?
Nature is unquestionably my greatest source of inspiration. I feel entirely at peace and connected whenever I am in a natural area. In the studio, I bring that frame of mind with me. The flow of water, the textures of trees, the intricacy of rock formations/crystals, and the tremendous vibes emanating from nature in general inspire me. Most of the artworks I create are inspired by my dreams, and I acquire my creative ideas during meditations, thus spirituality plays a significant role in my creative process.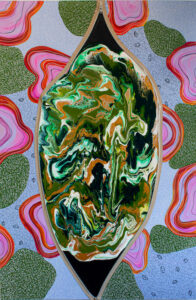 Portal 1 by Amelia Hadouchi
Travel and nature play a big role in your art. Can you describe an experience that deeply influenced you and your practice?
So many situations have inspired me and my work throughout the years, but one of the wildest would be witnessing a volcano eruption up close and personal haha. I did a 7-hour walk up a dormant volcano and tented on top of it to observe Fuego, one of Guatemala's most active volcanoes. It literally erupts every minute. I was awake all night, unable to sleep. The sound of it erupting alone is insane. It's a life-changing experience because it makes you realize how insignificant we are as people and how majestic and strong nature is, which should never be overlooked. I was overcome with appreciation to have witnessed that, and every single day, I am reminded of what I learnt from that experience.
Earlier last year, you dived into the NFT space and found early success with your work being acquired by various collectors. How has blockchain technology enabled you to generate new creative ideas? 
I was thrilled to enter the NFT space since I would finally be able to put my design skills to use (I studied interior design). It enabled me to bring my paintings to life. I'm feeling encouraged to create NFTs on a daily basis, which is fantastic. It seems like more studio time, but on a computer, I really enjoy it!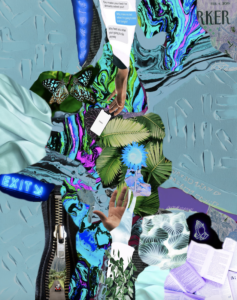 Vivid Vision NFT animation by Amelia Hadouchi
What are 3 things you can't live without in your studio?
Incense, music, and coffee/tea.
Your works are heavily influenced by energetics. Do you have a specific ritual that you practice before painting? How do you get in the zone?
When I'm painting, I get into a trance-like state. Before I get in that creative mood, I light an incense, I energetically cleanse the space If needed and I meditate to let go of control and expectations. I start creating once I've relaxed and put on an uplifting music playlist or podcast (depending on the mood).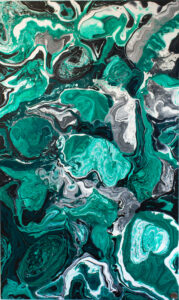 Emeraude - Let Me Be by Amelia Hadouchi
What's one message you'd like the viewer to take away from your work?
That the only thing that truly exists is the present moment. My goal is for people to "press pause" on their fast-paced lives and stare at art, using their imagination and creative mind to see things - faces, creatures, messages - whatever the artwork wishes to convey with them.
View Amelia's full profile here.