Entrench Yourself in Zaina El Said's Imagination...
By Agnese Oliveri
Zaina El-Said aims for artworks that transcend time, space, and divisions. Raised and born in Jordan, she comes from a family of Iraqi artists, and since that moment she had already started to absorb their influxes into her imagination. Her artworks vary in forms, type, characters and landscapes. It is impressive to see the range of references: they span from Sophia Loren, to mythological characters, to Moroccan dynastic family members, to Lawrence of Arabia. When asked what message she wants to convey with her art she has beautifully replied: "To realise that our visible world is only a by-product of our imagination is a way to understanding a larger part of our truth as humans, and I hope that my work conveys this message."
Ice Cream In A Dream by Zaina El Said, 60 x 42cm, $500
The icons in her images, Western and non, are "showing unity and transcend differences". Her awe-inspiring artworks do leave the viewer in a sort of wonderland where issues of boundaries and time and separations do not interfere. In the interview, she has traced back how her multiple experiences have influenced her appreciation of differences. Being brought up as part of a minority and then projected in London's multicultural scene she has learnt how to embrace what makes each one of us different and how to give harmony to these differences in her artworks.
Her characters animate her pieces and she has described how they all seem to land there spontaneously. She picks up from a vivid imagination whatever she encounters and bring it to life by accompanying it to unusual settings. In her own words: "I would like to believe that the characters choose themselves to be exhibited. On so many occasions I would choose a character in an artwork and it will repeatedly fail in fitting the work. However, another character would spontaneously appear to replace the other. I wish to believe that these characters that represent the work have chosen themselves maybe to retell a story, to redefine a belief or change some sort of history course. I also have my set of heroes and heroines that I admire and are chosen to represent the artwork. I am very fond of mythology, ancient cultures and folktales, hence I always found amazing characters that speak beyond the language of words that represent them and felt that they deserve to be portrayed within frame of visual symbols that best ascribe to them."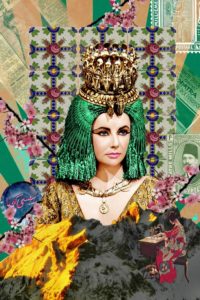 The strongest motif behind her characters and her artworks is: "the oneness of human innovation. For example, an act of kindness by a stranger, a quote by Hallah or a beautiful tapestry, all blend together into a single experience that is eventually projected into an artwork." Zaina's profound belief in art's mission is also what really touches the viewer and is reflected throughout her artworks: art is the realm where oneness and spirituality can truly be transmitted, "the space where ultimate truth resides". Her belief and representation of unity in our differences is the most touching element of her artworks and what strikes the most when one is confronted to it.
Cleo & Effendi42 x 28cm, $550