Emergeast, the MENA region's leading online art gallery, has collaborated with J Nicholls Projects to present Tarik Chebli's solo show, Euphoric Nature, that marked their first solo exhibition in London during one of the world's most anticipated events in the art calendar, Frieze Art Fair 2022.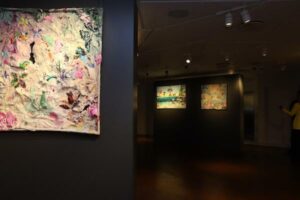 The opening of Euphoric Nature welcomed a full house with 200 attendees that included young and seasoned collectors and London's art enthusiasts to celebrate Tarik Chebli's latest body of work. In spirit of art month and the upcoming Frieze Art Fair, the room was buzzing with excitement and intimate engagement with the artworks in the presence of the artist himself. The opening personified Emergeast's mission of breaking down the barriers to entering cultural and creative discourse with a new generation.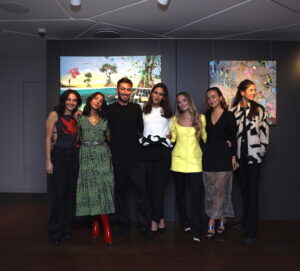 Characterised by heavily textured acrylic paint, Euphoric Nature offers a gateway into a mystical world of reality and imagination. Tarik's impenetrable works occupy an expressive realm between figurative landscapes and abstract forms. Drawing from both imagination and inspirations from his travels, Tarik translates his encounters with the natural world to reimagine his mystical experience, creating a powerful sense of movement enveloping the viewer.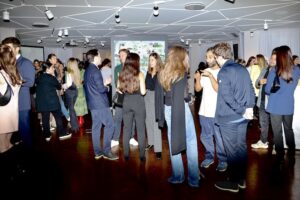 Using his multidimensional layering, Tarik oscillates between a spiritual underworld of imagined utopia and serene 'soul soothing' landscapes. It is in this instance of transition between the known and unknown and the physical and ethereal that Tarik explores the mysterious and energetic discoveries of an imagined utopia. Through spontaneous brushstrokes and detailed abstractions, the viewer can enter a sensory experience into an abyss of his euphoric underworld.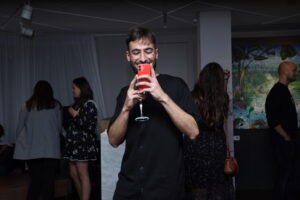 Marking a feeling of excitement and happiness, this euphoric land reinstates our duty to protect the divine nature and reminds us of the limitless possibilities it has to offer. 'I am fascinated by the mysticism of nature. There is something infinite about the secrets and diversity of it, it reassures me.' – Tarik Chebli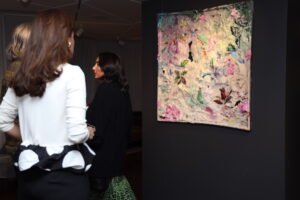 Tarik's latest body of work reflects the artist's meditations on the rapidly modernizing world. Inspired by Anselm Kiefer's visual complexities, Tarik incorporates lively subject matter with a rich and vibrant tactility. Similar to an archaeologist, Tarik often scratches residue of his thick acrylic canvases to uncover and rediscover parts of his painting from early parts in his process.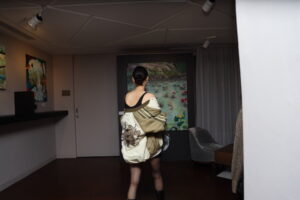 The exhibition is on by appointment until the 28th of October at 12 Hay Hill in Mayfair, London.
For more info please contact [email protected].