As an interdisciplinary artist based in Beirut, Lara Zankoul's photographic surrealism captures everyday human behavior and issues that occur within society through photo and videographic media, installation, and 3D.
Having been featured in a number of exhibitions: locally and internationally, we sat down with Lara to hear more about her journey and inspirations behind her signature work.
We're so excited to welcome you to the Emergeast Family, Lara! Tell us what inspired you to embark on your journey as a photographer?
Very excited to be here as well!! I've always had a love for photography, I remember looking at fashion editorials in magazines when I was 7 or 8, and they used to make me dream. For some reason, I used to believe that I did not possess any creative skills and decided to pursue a career in economics. What inspired me to buy my first camera was my sister's friend, who had bought a camera and showed me some bokeh effects that a specific lens (50mm 1.4) could take. It all became tangible and I decided to buy my first camera after embarking in a full-time business research job. And it all went uphill from there.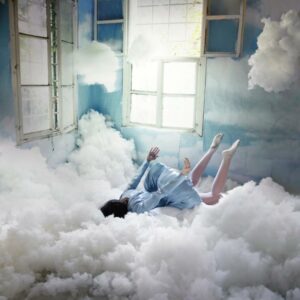 Giving into Clouds by Lara Zankoul
Your style is often referred to as photographic surrealism. How did you come about this artistic style?
Photography was an escape for me, a passion that I used to pursue in my free time. It helped me escape reality, this is where the surrealism started, to evade the realism of the life in a cubicle, of social expectations, of living the challenges of a political unstable country, etc.
Most of your work is in constructed life-size sets. Walk us through a day in the life of one of your shoots. What's the most challenging part during the process?
Before getting to the shoot, a lot of planning happens. My longest preparation time reached 6 months, when I was preparing for the Unseen series and had to have an human sized aquarium, decorated as a room, built. I break down the shoot into categories (location, art direction, wardrobe, models, lighting). After securing those categories, I am ready to shoot. I am usually quite excited on a shoot day because all those elements come together and this is where the magic happens. The most challenging part is to accept the gap between what I had envisioned and the actual result. I learned that the more I let go and accept the moment as it is, the more magic happens in a photo. I prepare for a specific concept as much as I can but during the shoot I keep room for improvisation. Once during a shoot, a unexpected ray of light entered the room through the window, creating a beautiful whimsical effect that I hadn't planned, other times I ask the model to freely interact with the set, and beautiful pauses are captured. It takes me at least 2 days to be able to look at the photos after a shoot.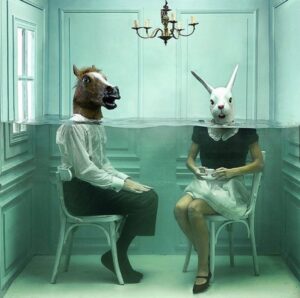 The Zoo by Lara Zankoul
What's the significance of choosing abandoned or old homes in Lebanon as the setting for some of your photographs?
It is an attempt to maintain this architectural heritage, that seems to be shrinking as time passes. I started photographing in my grandparents' house in our hometown in the South of Lebanon. The art direction was all there, different rooms, with hand painted ornaments on the walls and matching tiles, heigh ceilings and traditional windows that would let the right amount of light enter the room and in the right directions. The setting was perfect to photograph. This is where my love for these houses came from.
'The Zoo' series is one of your very popular series worldwide, can you tell us more about the narrative behind this series? And what's the importance of having it as an edition of 50 compared to your smaller edition sizes?
The Zoo is a piece from the Unseen series, which presents 2 viewing experiences within one image: what is below the water in what is unseen, like an iceberg effect – what is above the water is what is apparent, like the tip of the iceberg. I use this narrative to tackle social and political ideas, like gender identity, dysfunctional couples in a household, political hypocrisy, etc.
Only one piece has been launched in an edition of 50 in smaller size due to the high demand for that print. I decided to launch this smaller edition to make it more accessible to young collectors.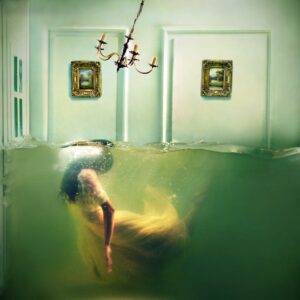 The Noone by Lara Zankoul
You've successfully entered the NFT space earlier this year. How has this disruption pushed you to explore new realms with your work?
Entering the NFT space is inspiring me to explore the 3D medium more. Lockdowns were my first opportunity to dive into the 3D world and now the NFT space is supporting this visual passion as well. I am keen on building surreal worlds in 3D that look like my photographs, and then animating them in a whimsical way.
Flash Time with Lara!
Favourite song to play on set?
It keeps changing, these days it's Peggy Gou, Starry Night.
What's your biggest achievement so far?
Exhibiting at Guy Hepner in New York.
Three famous names at your dinner table?
Tim Walker, Tim Burton, Alexander McQueen
View Lara's full profile here.