We're excited and honoured to introduce our new partnership with CNN's NFT marketplace, Vault that aligns with our mission of championing trailblazing artists from the MENA region by providing them with a platform to share their stories.
Dropping this Thursday, 28 April at 1PM ET / 9PM Dubai is 'Beyond' by Muhcine Ennou, a beautiful work that takes us beyond earth for a glimpse back home. This NFT will be available as a limited edition of 777 at USD 77.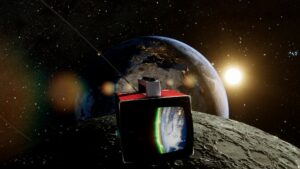 Beyond by Muhcine Ennou, Edition of 777, USD 77
But that's not all! Collector's of the 'Beyond' artwork may have a decision to make! If collectors also collect CNN's Environment Key,  a CGI (Computer Generated Imagery) version of 'Beyond' titled 'Nature's Beauty and Beyond' can be unlocked.
"In creating this artwork I was thinking of the geometry of the shapes, distance between objects and how the camera moves all based on the mystical number seven and its degrees of perfection" Muhcine said. With the use of CGI (computer-generated imagery), Muhcine creates a world that unveils a discovery of a certain tenderness, a feeling of evasion; a world that turns the familiar to the unfamiliar.
After the Beyond sale is complete, collectors who own editions of both 'Beyond' and the Environment Key will have an opportunity to trade them in to receive an edition of 'Nature's Beauty and Beyond'. All trade-ins will be removed from circulation and eventually burned, reducing the supply of 'Beyond' and the Environment Key. Collectors who want to keep those pieces should not trade them in. Collectors who want multiple editions of Nature's Beauty and Beyond can trade in multiple pairs. Collectors who want to hold all three ('Beyond', 'Nature's Beauty and Beyond', and the Environment Key) can collect multiple pairs to keep some and trade some in. The choice is yours! Stay tuned for more trade-in instructions.
Join our Twitter Spaces conversation with Vault by CNN and Muhcine this Wednesday at 3:30PM ET / 11:30PM Dubai here. By attending the talk, listeners can earn CNN's Purveyor of the Arts Coin that offers a 20% discount on all future Vault drops.