Hi Shirin! Welcome to the Emergeast family - we're so excited to share your art with the world. How would you describe yourself in 3 words?
Thank you! I am so happy to be part of the family! Three words that would describe me these days: curious, color-obsessed & searching.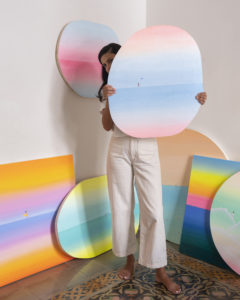 Image by Clemente Vergara
Can you tell us a little bit about what inspires you and how you began your journey as an artist?
Since I was a child my parents encouraged me to travel with my sketchbooks in tow & to draw everything I observed. I am still so inspired by the colorful countries & cultures I was blessed to experience. I am a Baha'i, which is a persecuted minority in Iran, & as of late I am extremely inspired by the heroic women & girls who are leading the world's first feminist-led revolution. Also I am also continuously taking inspiration from my environment since moving back to the beautiful Mediterranean; the light here is magical.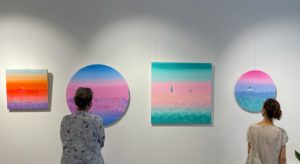 Image by Galeria Cromo
You've traveled around the world at an early age, how has travel inspired your art practice?
My father is an architect & my mother a designer, & they took me to dozens of countries during my childhood. This allowed me to really immerse myself in the beauty of many diverse places, peoples & environments. I am always pulling from the visual nostalgia of those memories in my paintings.
Your colour palette consists of soft and soothing tones, can you explain more on how this helps evoke beauty in your artworks?
I have always been extremely sensitive to color since childhood & paint from a place of trying to convey my emotions & to connect to the spiritual aspect of my life through those hues.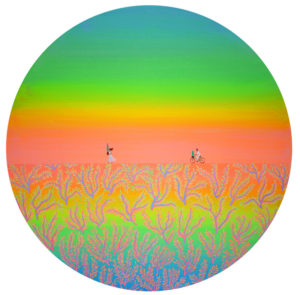 A Summer Memento by Shirin Sahba
Some of your works come in different canvas shapes, how did you come across this idea?
Starting in university many years ago, I have always loved to invent & build my own canvases on deep stretchers that stood off the wall in an almost sculptural form. Now my shapes are much more soft & organic yet continue to blur the line between sculpture & painting. I only create shapes I would love to have in my own environments. The work acts as a kind of window to another world while also mimicking organic forms in nature.
Your paintings showcase vast landscapes relative to the figures at a distance. Can you explain the importance of your compositions?
I am so intrigued by our smallness, fragility as humanity in the vast scheme of life & the universe, & yet how important & significant our lives can be at the same time. The feeling of movement of each character through a vast landscape color field also emphasizes that the journey is more important than the destination.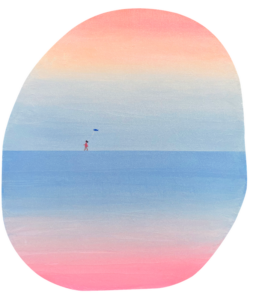 Happiness by Shirin Sahba
What's one message you'd like your viewers to take away from your works?
I don't have a specific agenda, I think experiencing art can be a lot like listening to music: for each person it triggers a different sense of feelings, or even nostalgia. I hope that it makes you feel something, to feel alive!
FLASH TIME WITH SHIRIN
1. What's your favourite object in the studio you can't work without?
My music!
2. An artist you could have dinner with?
Maryam Keyhani!
3. What's one highlight from your art career so far?
I think the biggest highlight has been meeting such interesting people globally through my work. My life is richer because of them.
4. A motto you would live by?
Surround yourself with positivity & strive to see the good in life & in others.