Updated on 2 August 2022.
Since Leila Pazooki's launch on Emergeast, we're pleased to announce that Durham University's Oriental museum has acquired two first edition prints from Leila's notable works.
We are honoured to present renowned visual artist Leila Pazooki as our newest addition to the Emergeast family. Leila's multimedia body of works address political, social and personal motifs across cultures.
For the first time, Leila is extending her notable work into limited edition prints exclusively on Emergeast. With such powerful messages to share with the world, we sat down with Leila to hear more about her inspirations...
1. Tell us, who is Leila Pazooki in 3 words?
An optimist, not utterly compliant to preplanned structures and really loves to collaborate with people!
2. Tell us about your neon series, how did you first decide on using neon as a medium of expression?
It came very naturally. Growing up in Iran, I was used to seeing this neon aesthetic everywhere on the streets as advertisements and as shop signages. It used to be even more vibrant during night drives through Tehran full of beautiful images and words.
I am fascinated by the power of words and I am a firm believer in it. I was always fascinated by this powerful added energy to writing a word in neon. I began wondering what if neon can be used with words that have a deeper meaning unlike the commercial advertisements. That was when I asked the question: what words would they be? The answer I found lied in basic values I cherish like love which is 'Esgh' in Farsi. Later the words evolved into philosophical or socio-political questions or statements like "This is not Green" inspired by the Green movement in Iran in 2009.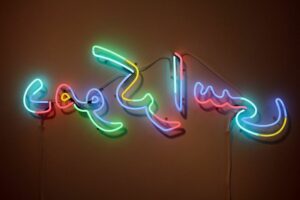 Democracy, Digital print on hahenmuhle 300gsm paper, 50x70cm, Edition of 20
3. This is the first time you are producing limited edition prints of your works. What importance does disseminating your message to a wider audience have?
I love the fact that I am doing it and I feel that it's just the right time. I was so happy when Emergeast approached me with their idea of extending my neon series as limited editions because it opens the doors to many new opportunities. For example, it enables easier access to art and people can buy and transport it more easily. I love that since it's more accessible, my work can connect to a different variety of people like younger collectors, which is great!
4. How has growing up in Iran influenced the messages behind your works?
Growing up in Iran is like growing up in a little time machine for different reasons. For example, capitalism is different there and so are the influences of images you receive. Also having grown up during the war in Iran was a big element that we tend to ignore,  experiences like midnight sirens, going outside the house and waiting for the bombs to be dropped then returning to your home.
It also influenced my way of thinking because of Farsi's linguistic reasoning compared to other languages of the world. Your brain starts to think differently from right to left or left to right depending on whether you're growing up in a Farsi or Arabic speaking country or a Western one. In addition to the linguistic differences, I also developed a different outlook on things. I think that influence became visible when I had to live in Europe and was pushed to see things from the other perspective.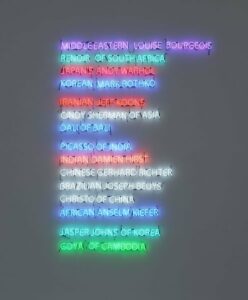 Moments of Glory, Digital print on hahenmuhle 300gsm paper, 70x50cm, Edition of 20
5. Your works are based on various socio-political issues. How important do you believe the role of an artist is in stimulating social change? 
I believe the artist has an important role culturally, socially, politically but sometimes also subconsciously these factors affect the artist. And sometimes the other way around, the sociopolitical or environmental context can change the artist. I think it's a dynamic relationship.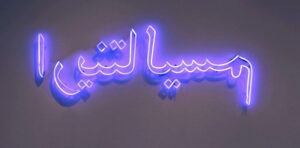 Orientalism, 50x70cm, Digital print on hahenmuhle 300gsm paper, 50x70cm, Edition of 20
6. What message do you wish to convey in this world? And what's next for Leila Pazooki?
My message is about healing and rethinking; collective healing, collective rethinking and collective empathy. I hope that my work conveys this message.
View Leila's full profile
here.