We are thrilled to announce our participation in VISUAL LANGUAUGE: THE ART OF PROTEST, an LA based group exhibition hosted by Subliminal Projects in collaboration with Coates and Scarry.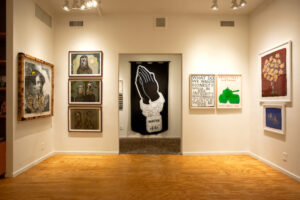 Three of our female artists Awanle Ayiboro Hawa Ali (Ghana),  Hana Shahnavaz (Iran)& Leila Pazooki (Iran) will be representing voices from the MENA & Africa region. The exhibition includes international artists like David Shrigley, Barbara Kuger, Guerilla Girls, Ed Ruscha among others who explore the symbiotic relationship between art and activism.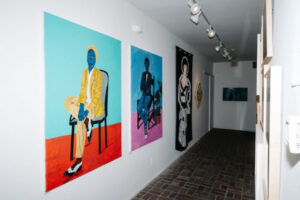 The historied alliance between art and protest, in its many manifestations, is rooted in the understanding that effective change begins with a cultural shift. Visual Language: The Art of Protest, is an investigation of how art serves as a societal crux between dissent and action.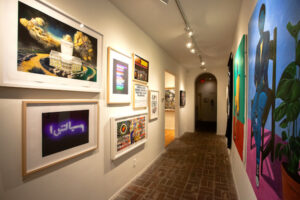 CONTRIBUTING ARTISTS
Andrea Bowers (Vielmetter Los Angeles), Awanle Ayiboro Hawa Al (Emergeast), Barbara Kruger (Spruth Magers), Cey Adams, Cheryl Dunn, Christopher Martin, David Shrigley (Stephen Friedman Gallery), Ed Ruscha, El Seed, Emory Douglas, Gary Taxali, Gordon Cheung, Guerrilla Girls, Hana Shahnavaz (Emergeast), Leila Pazooki (Emergeast), Lina Puerta, Maya Hayuk, Pussy Riot (Nadya Tolokonnikova), Penny Byrne, Renee Cox, Robbie Conal, Ron English, Salah Elmur (Vigo Gallery), Shepard Fairey, Stan Squirewell (Claire Oliver Gallery), and Juana Valdez (Spinello Projects).
ABOUT COATES & SCARRY
Coates & Scarry are art dealers and curators based in the UK. They have worked in partnership for twelve years on projects and with institutions such as the Royal West Academy (RWA), Bristol City Museum, and other commercial galleries and project spaces. They have curated exhibitions in Hong Kong, NYC, London, Bristol, and Los Angeles, covering subjects on queer theory, identity, the environment, and the human condition.
ABOUT SUBLIMINAL PROJECTS
Subliminal Projects is a multi-functional project space and gallery established by Shepard Fairey and Blaize Blouin in 1995 as a way to introduce skateboard culture and design to the art world. The concept grew and found roots later in Los Angeles, at a time when many artists found themselves shut out by the "art scene." Subliminal Projects emerged as a gallery that championed emerging and marginalized artists, built out of cultural importance to serve as a center for the community to openly express and spark dialogue about art,music, and activism. Now located in the historic neighborhood of Echo Park, Subliminal Projects continues to offer a platform for artistic exploration and innovation.