What female artist/s has inspired you?
Dora Maar is one of the many female artists that inspires me. I was always a fan of Picasso's portraits of her as she was his muse and lover but later learned that she was an amazing painter, photographer and poet herself. I believe that although she wasn't given the recognition she deserved, she kept making art because she knew that she was as good, if not better than the best male artists of her time. This goes to show that ambition and self belief are extremely important traits for a female artist to have. Another female artist that inspires me is Meret Oppenheim. She became one of the most important representatives of surrealism in a male dominated group. Producing some of the most powerful work of surrealism, she critiqued and explored society and her place in art as a woman. I think that this is extremely powerful and exceptional for a woman living in her time.
What does it mean to you to be a strong woman?
To me, being a strong woman means being resilient, courageous and always fighting for more.
Describe the modern Middle Eastern woman?
In my opinion, the modern Middle Eastern woman is resilient and strong. Even when she's going through a lot of hardships, she keeps going. I think she might also be a little stubborn when she sets her mind to something and can accomplish anything without letting anything or anyone get in her way. Even when she is challenged over and over again, she knows her worth and is always looking to grow, learn and explore. Finally I think that the Middle Eastern woman is brave. She never quits.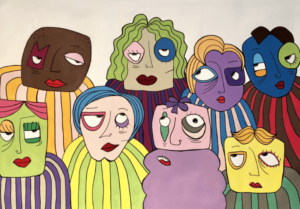 How do you wish to inspire the next generation of female artists?
I want to show the next generation of female artists that they can reach their goals and shouldn't settle for less because they are women. As I am going through those challenges, I think that  it is important to keep in mind that as women, we shouldn't be limited by anything and should always aim for more. I want to be able to support other female artists and help them succeed as we stand together.
If you had one superpower, what would it be?
If I had a superpower, it would probably be teleportation across space and time. I would go back in time to meet my favourite artists and authors. I would teleport to different countries; be on a ski slope in the morning and in a jungle in the afternoon. That would be amazing!
View Sara Tohme's full profile
HERE