This week we grew reminiscent of our childhood as we entered the playful and colorful world of Lebanese artist Ihab Ahmad. Throughout the years, Ihab has developed a signature style that's paved the way to entering numerous global exhibitions, including the Egypt International Art Fair, Carre d'artistes in France, Lebanon, and Hong Kong, and Artbooth in Abu Dhabi, just to name a few. As Ihab continues to produce mesmerizing work, we sat down with him to talk more about his inspiration, his process, and plans for the future.
Tell us a bit about your journey to becoming an artist? What were the initial inspirations that led you to produce your first artwork?
It came very spontaneously, I never thought I wanted to be an artist. In fact, I pursued my first degree in hospitality management, but all my life I've been sketching, drawing, or painting on whatever my hands could find. In the beginning, I thought that art would only be a hobby until one day, I decided to shift my career to working in graphic design. It was then that I decided to become serious about going down the path of becoming a full-time artist. I quit my job and started studying visual communications at the Lebanese university.
I can't remember my first artwork, as I said everything was very spontaneous, but I do remember the first artwork I drew was on a canvas, that was something to me! As I started to draw and paint more, I knew I wanted to take my art to another level where I can see it hung on a wall. In the beginning, I used to work on stencils where I made a  few symbolic characters, but it wasn't until I got inspired by a few local and international artists that I decided to play more with the characters and symbols I create. Painting, to me, is a playful experience.
In three words how would you describe your creative process?
Playful, colorful, and imaginary.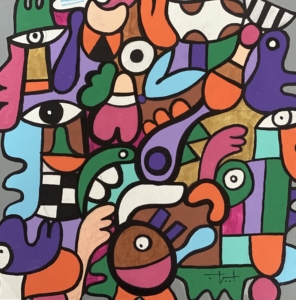 Your work depicts natural elements like birds, eyes, and trees, and all types of shapes that allow us to tap into our imagination. How did you come about developing this signature style?
I think it's because artists, in general, are good observers. I look a lot into details around me, more specifically in the details of nature. I'm stunned by the beauty and the wonders of nature. I believe I have my unique way of seeing and interpreting nature. My eye for detail and subjective understanding of my surroundings helped me develop my signature style in an imaginary context.
Your colour palette consists of bright and playful colors. What do these types of colors signify?
I love playing with colours and placing one next to another in a contrasting way. I think that overall it is the colors that allow for feelings in the viewer to arise when looking at my paintings. I want my work to trigger the eye of the viewer and bring positive and happy vibes.

What message do you wish the viewers of your art to get from your paintings? 
Feeling happy, as simple as that.
What is a highlight from your career as an artist so far?
One of the highlights I did in the past two years and I'm so happy with its outcome, is a 28x17 meters painting mural I did on one of Beirut's walls. It was a big challenge to me as it was my first mural and on a big scale. I was also thrilled to contribute to shedding light on a good cause.
After the difficult year of crises that Lebanon is facing, what role do you believe the creative community including your art has in helping rebuild the country? Has your art helped you through?
Art in itself is a form of rebellion and is a powerful tool to send the message that we are still alive and we will move forward, nothing will stop us. Despite everything happening in our beloved country, Lebanon, we are still producing art that brings us joy and spreads hope and positivity.
 I've also participated in an online charity auction that happened during the economic crisis in the time of corona, a percentage of the auction was given to a local NGO, I've also donated one of my painting by participating in 'The Artists with Beirut Auction' to help rebuild Beirut after the blast. I wish I can do more. For me in this delicate time, art is my only escape. It is helping me heal.

For Ihab's full collection click
here
!