From Graffiti-based artist to painter, animator, researcher and curator based in Manchester, Iranian-born Parham Ghalamdar is always curious about experimenting with different mediums, willing to risk all previous knowledge or perceptions. He's currently coming close to completing an MA in painting at Manchester School of Art with oil painting and drawing at the core of his practice. We caught up with Parham to hear more of his take on the importance of painting, how his practice is shifting and what his latest inspirations are.
1. Give us a brief intro! Who is Parham Ghalamdar?
I'm a painter specializing in oil painting with a background in graffiti and graphic design. I'm concerned with ways of disciplining an image by relying on the histories and traditions of painting.
Figuratively a Don Quixote battling chaos to put the visual realm back into order. A Sisyphus resisting the Absurd by persisting and continuing.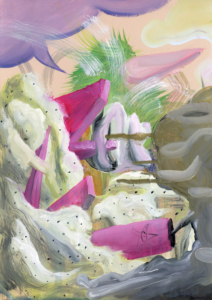 Sugar Coated Landscape, Oil on pearlescent paper
2. Earlier in your career, your mixed media paintings involved evident references to Persian culture and language, which is different to your newest oil series on Emergeast. Can you explain more of why or what caused you to drastically shift your artistic style?
That's what immigration does to you. Immigration is not just changing your geography. It changes everything: your dreams, hopes, goals, desires, sense of belonging, and all the other metaphysical roots that shape your identity. Once you walk away from your past you figuratively die and are reborn.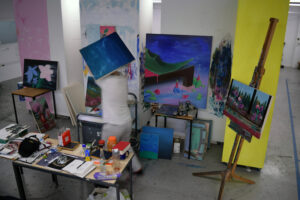 Parham in his atelier in Manchester in 2020
3. Can you explain the main inspirations behind your vibrant body of work on Emergeast, and what would you like your viewers to take away from it?
The paintings consigned to Emergeast were created after the National Lockdown of 2020. I was thinking about the figurative and literal manifestations of death. I was thinking about different ways of interpreting the "death of painting". A painting couldn't die unless it's a person. A painting couldn't be a person unless it's personified. I thought what if I could make paintings in which every single brush stroke is visibly characterized by carrying ideas about shape, color, texture, movement, light, etc. The result of such contemplation were the paintings you see.
4. Since last year you have been experimenting with stop motion animation and AI-generated work. How do you see yourself further expanding into the digital realm?
I expanded my painting practice into the digital due to inaccessibility to my atelier during the lockdown. I had to renegotiate my practice to maintain a presence. I thought the grid or the digital desert was an invitation to go on an adventure for new opportunities. I have been trying to bring my knowledge and skills of painting into the digital realm, which is why it's called expanded painting.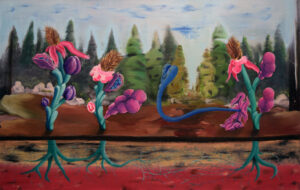 Science of Staging, Oil on canvas
5. In contrast to the historically rooted ideology of East vs West, how do you view yourself as a product of hybrid cultures? 
I see myself as a constitute of multiples. I'm trying to study different schools, traditions, and histories of painting to borrow fragments from here and there. I have a deeply archeological approach as if my studio is an excavation site.
6. What's one belief you stand by to remain authentic as an artist?
Take the work seriously, not yourself.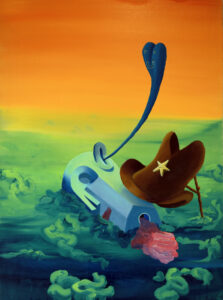 Spectre, Oil on canvas
7. What is next for you as an artist? Any upcoming projects?
I have just landed an Art Council of England project grant to develop a virtual reality project commissioned by Journeys Festival. The project will be open to the public in Portsmouth, Leicester, and Manchester.
I will present some new projects at Manchester Contemporary Art Fair 2021 with Paradise Works studios & gallery.
I am also preparing for solo shows at Abingdon Studios & Gallery, and Granada Foundation Galleries. Meanwhile, I am also seriously thinking about the NFT game, I might do some experiments with it.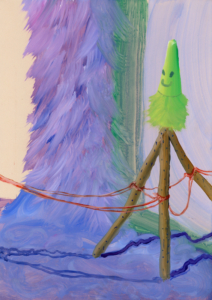 Simulating a Safe Space, Oil on pearlescent paper
Flash time with Parham:
1. Favorite book?
'The Painter's Secret Geometry' by Charles Bouleau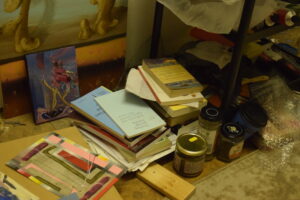 A photo of Parham's library in his atelier
2. Quote you live by?
14. DON'T BE COOL.
"Cool is conservative fear dressed in black. Free yourself from limits of this sort"
- The Incomplete Manifesto For Growth by Bruce Mau
3. In one word, why do you paint? 
"Existentialism"
View Parham's full profile
here.