Hunna / Elles / ُه َّن ' is a group exhibition of 19 women artists from or based in the Arabian Peninsula. These artists are part of a new generation redefining the region's visual and conceptual artistic landscape through their practices. Across various media, they explore and reflect on personal and collective experiences, subjectivities, identities, mythologies, and historical and societal evolutions.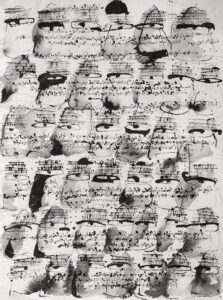 Untitled I, Yeebhom series, Ink Charcoal, pencil and acrylic on handmade Indian Khaki paper, 80x60cm, 2023
Their work unfolds nuanced and multifaceted perspectives on the region, its paradoxical modernities, and the diasporic experience. Curated by Océane Sailly and held in collaboration between Millon, Hunna Art, and Emergeast, 'Hunna / Elles / ُه َّن ' is an invitation to discover, for the first time in France, the richness and complexity of women's creativity in the Arabian Peninsula, and to gain a better understanding of the region's diverse and evolving art scene.