Although based in New York City, you are of Palestinian and Romanian heritage. How do these tri-partite experiences affect your artistic style and message?
The colors, patters and sensitivity of all three different worlds is the absolute representation of my pallet. There's not one that stands out more then the other, but somehow balanced each other in the compositions that I have created so far.
Looking at your works, one sees Napoleonic era soldiers, skeletons and insects to name but a few of the images in a single collage. Where do you source these images from?
My images have been a collection of over thirteen years of traveling the world and collecting papers and books. Sometimes I hold a cutout for years before actually using it. There's not a formula, but I somehow remember all that I have in my "visual library" and when I come up with a story for a new collage, I'm able to find the images I need to complete that specific story.
What is your creative process? Do you have a clear idea of what images you want to feature in a work before you begin, or is it an organic and ongoing process while the work is being executed?
I usually come up with a theme, based on history, everyday encounters, a book or movie and sometimes my frustrations. Its a form of therapy, a sharing of what I need to interpret. It often comes organically and other times I try to be more direct in my representation of a theme.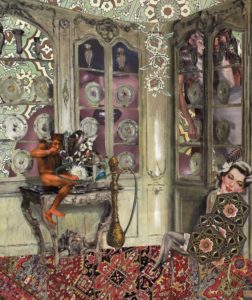 Having had a solid art education in painting, drawing and printmaking, what is it about collage work as a medium that so appeals to you?
I still think of myself as a painter, even when I'm doing collage, I don't see a difference between mixing colors for a painting and find images for a collage. The magic of collage is that it does not smell and its easy to clean up, which became a functionality part since finishing art school in Boston and since residencies are short lived. Additionally collage has a somewhat anarchistic component to it, as a romanian/palestinian/american protesting governments is key to my human condition.
You have said that your works address the following themes: Eastern culture, Arab culture, early colonial federalism, and violence against women. What is the significance of early colonial federalism for you, and why does it feature so prevalently in your art?
I immigrated to America when I was 16, heartbroken and lost, not understanding this new land and the coldness of the people, made me examine my new  country. Through this I focused on the colonial days and how they would brainwash the locals to be like them, changing names/clothing/language, in the same way, I felt that that was happening to me. I found myself ashamed of my ethnicity because the peers that I meet had no idea where Transilvania or Kuwait (where I grew up within a palestinian neighborhood) where or stood for.
What are you working on at the moment? Any exciting projects in the works?
I moved to San Francisco two weeks ago, trying out this new world full of light and nature. Currently trying my best to get back into painting but also working on a few large collages, no finished thoughts yet, hopefully in a month.
And finally, who are your favorite artists at the moment?
*The incredible tapestries of Samar Hejazi (
https://www.samarhejazi.com/
) and the wary portraits of Adrian Ghenie