The Decadent Photographer - Hani Amra
Hani Amra was born in Jerusalem, studied Arts and Literature in France and currently resides in Palestine. His work explores the medium of painting and photography, with a focus on re-constructing a world through an acute observation of his environment and its constant evolution in time. EMERGEAST' sat with Hani to learn more about his journey...
In three words who is Hani Amra the Artist? 
Seeker, explorer, wanderer.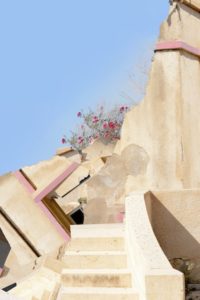 As a multidisciplinary Artist (painting and photography) do your inspirations differ from medium to medium? 
Both mediums have characteristics that are useful in different ways. Photography is directly related to the physical reality or environment. Painting gives you more freedom to explore. In both cases the physical realm is invested to be recreated and revisited. Photography is more binding to reality upon which one can reflect, analyze through different techniques, including abstraction and collage. Painting is less binding and more directly related to the inner-self or inner aspirations. Both mediums have powerful investigative qualities.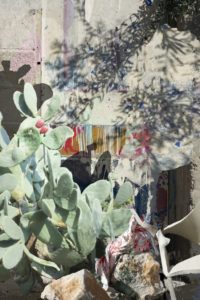 Does your identity as a Palestinian Artist infiltrate your art, and if so how?
Obviously one can recognise some features of Palestinian landscapes in some drawings or paintings, but for me its first of all a landscape with rocks, trees, shapes and colors. I don't need to say I'm Palestinian as the lion doesn't need to claim he's a lion. Also, engaged or political Art in the Palestinian context and any context is important and doesn't necessarily relate to identity, so this is not the point. For me Art is a creative way to open new spaces, beyond pre-fixed identities. The limited boundaries of culture, identity and tradition, and the context of living under occupation in Palestine, are already a heavy load. So the idea here is not to be stuck in a rhetorical language, but rather to use the art medium as a means of exploration and self-realization. And this is also a kind of engagement.
What's next for Hani Amra the Artist?
I take pleasure in doing art as a daily practice, I would love to explore more of the world and be able to meet, share, learn and travel more.
If there was a soundtrack/ music genre to your artistry, what would it be? 
Music is boundless, but it would have to be Jazz, its like abstract painting.
And finally, what would you tell a young collector seeing your work for the first time? 
I would love to listen to what he has to say and engage in a friendly conversation.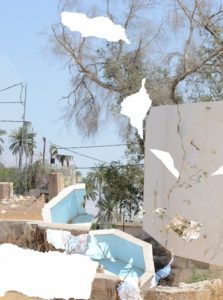 Explore more artworks by Hani Amra by visiting his full profile HERE!