(DUBAI, November 11, 2018) EMERGEAST – The first online art gallery for emerging Middle Eastern artists is to host a dynamic group exhibition in Dubai. The latest of the EMERGEAST exhibitions, "Let's Take a Moment", will take place on November 28 at 19:30 at Molecule Restaurant, in Dubai's vibrant Dubai Design District. The night opens with a cocktail reception where guests are invited to take a moment to welcome new artists to the EMERGEAST roster.
Distracted by all the noise, we often forget to connect with the world around us and truly immerse ourselves in the present. "Let's Take a Moment" will challenge the audience to take a break from their fast paced lives. Constant scrolling, swiping and flicking has altered the way we look at the world, "Let's take a moment" will encourage young collectors to truly take one moment to relish in an artist's story and the genuine essence of the artworks. That's all it takes: one moment to connect, it will leave an imprint in our hearts forever.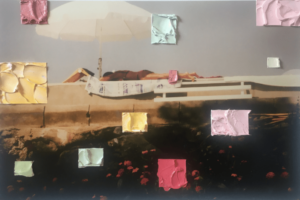 From painting to photography to digital collage, "Let's Take a Moment" is guaranteed to cater to a variety of tastes as guests will be invited to learn about a new selection of artist's journeys and their creative dialogues.  From across the Middle East, back with a bang, this special exhibition includes a spectrum of captivating artworks daring viewers to get up close and personal in an immersive experience. Highlights include works by Iranian artist Mehrdad Jafari, Bahraini photographer Mai Almoataz and award-winning Iranian photographer Arash Akbari Sene.
Guests will be able to acquire the artworks on display, building their art collection at affordable prices. The exhibition will be on display starting November 22 through December 4.  Urbanites can continue to build their art collection through www.emergeast.com's digital space.