In celebration of Women's Day, we hosted a private dinner experience at Le Guepard alongside an unveiling of a female-led NFT exhibition titled FEMENA.
FEMENA, an NFT exhibition highlighting six female artists took place at Le Guepard in Alserkal Avenue on 6 March. This event took on a unique perspective, shedding light on the growing role of leading women artists in the NFT space. Highlighted works included TimePieces artist known for her moving one-line illustrations, Parin Heidari's NFT animation 'Two Miles Too Far' and surrealist Lebanese photographer Lara Zankoul's dream-like 'Giving into Clouds'. FEMENA celebrated the newfound empowerment given to creatives in the region.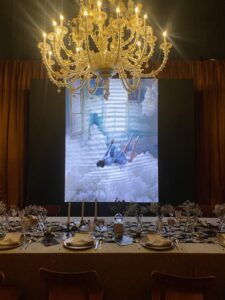 Set in one of Le Guepard's private rooms, the intimate event gathered 20 VIP collectors, ranging from traditional art collectors to the New Gen NFT collector to kick off the buzzing Art Week leading up to Art Dubai. During the dinner, the curated works were presented on a 3 x 4m LED screen, stirring new perspectives on how digital art will be consumed in the future.
As a female led company, the aim of the exhibition is to raise consciousness around female empowerment and the opportunities the NFT space is giving female creatives to amplify their voices and get their stories heard. Currently, women don't make up 50% of creatives, so this new space is about redefining how women's stories are told and bringing balance to the misrepresentation of women in the creative industry. The decentralized nature of blockchain technology is beginning to shatter archaic and mis-gendered systems. Detailing love, feminism and socio-cultural themes, the curated works spotlight the necessary inclusion of women in building the Web3 ecosystem, herlading the beginning of this digital revolution - one that revolves around equity, encouragment, and empowerment.
View the NFTs from the FEMENA exhibition
here