While in 2021 NFT (a unique digital certificate registered on the blockchain) was coined the word of the year, there have been no signs of slowing down in the early months of 2022. In fact, it's safe to say that creators and builders are pushing even more boundaries as new creative ideas are being explored. Here are 4 trends catching momentum in 2022.
1. NFT: New Female Territory
There has always been a misrepresentation of women in art and tech among other industries, and NFT and crypto are no different. According to an ArtTactic report, women artists on Nifty Gateway, one of the largest NFT marketplaces, made up for only 15% of artists on the platform.
Yet despite this lack of representation, blockchain technology and its decentralized nature offers an opportunity to finally shatter archaic and mis-gendered systems to give women more influence. One notable project that took the NFT space by storm is the World of Women NFT Collection that not only has the current floor price of 8.9ETH ($26,073 - at the time of writing this post) but will also be auctioned at Christies in March of this year. In a space that is dominated by 'bro culture', it is encouraging to see more support from the larger community in bringing equity to Web3.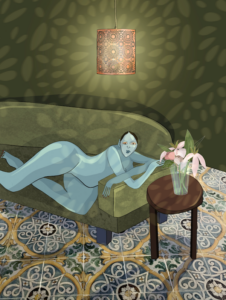 NFT Animation, Mays Almoosawi
2. NFTs to flourish in the MENA region
While as a region we've had some limitations with cryptocurrency, it's not stopping NFT collectors and artists from entering the scene and participating in the larger digital renaissance. There are various cryptocurrency exchanges in the region that are facilitating the process of buying crypto: a common barrier to entry into the NFT space. Rain, Binance and BitOasis are amongst the leading crypto exchanges in the region.
With Art Dubai announcing their inaugural digital section earlier this year, it's clear that there is a strong appetite from both collectors and artists for this new mode of art, powered by the blockchain. With our participation in Art Dubai as well as building various NFT projects, we are determined to continue to move this movement forward, using this technology to empower the art community as a whole. Keep an eye out for exciting NFT projects coming your way!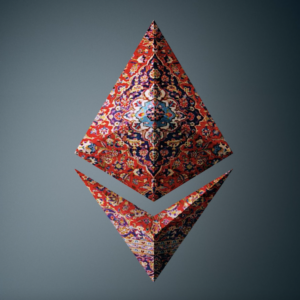 CarpETHereum, NFT Animation, Mazyar Kamkar & Reza Vojdani
3. Photography NFT takes the limelight
Because of the prevalent nature of photography in our current digital age, photography as an art medium has always faced the challenge of being appreciated on the same playing field as other forms of art. But with NFTs, photographers can take advantage of the 'digital scarcity' secured and authenticated by the blockchain to create even more value to their work. There has also been the rise of NFT Photography-specific marketplaces like Quantum Art and Ephimera that are giving photographers a platform to serve the niche space. One photographer that has proved to find great success through NFTs is Moroccan artist, Ismail Zaidy who not only sold out a collection on OpenSea but sold a 1/1 work titled 'Hope' for 7ETH ($23,184 at the time) on auction on the premium NFT marketplace, SuperRare.
4. NFTs in the metaverse…and in real life
Utility has been proven to be one of the biggest use cases for NFTs. It's no doubt that in 2022, there will be more versatile use cases of owning an NFT, especially in the metaverse; whether that is displaying NFT artworks in virtual homes and galleries or gaining access to certain membership clubs and giveaways. With the metaverse being a 1 trillion dollar business opportunity, we will see further integration of NFTs as digital assets that let us play, travel, socialize and educate.
Despite the common misconception that NFTs are detached from the real world - we will also be seeing ways in which NFTs can have real life use cases; access to networking events with members of a community, emergence of advanced physical screens intrinsic to the blockchain and NFTs and more.
Other trends to watch for are initiatives for greater inclusivity in web3, NFTs and the music industry, further education and building on environmental solutions, more (PFP) profile picture and membership community projects and real life NFT events, conferences and art fairs. It's exciting to think that we are still only at the inflection point of what's to come with Web3 and beyond.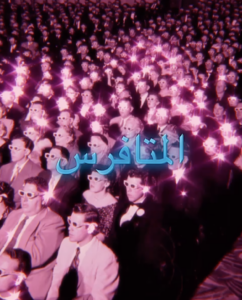 Metaverse, NFT Animation, Adra Kandil
For further reading: NFTs for Designers: An Introduction