Damascus born, Anas Homsi is currently spreading his wings in Berlin and catapulting his career to new heights. Homsi is an abstract artist and a master of colourful palettes and gestural brushstrokes. His description of his productions are somewhat dreamlike, he aims to capture the atmosphere of a memory, possibly even going back to childhood.  Homsi's paintings consist of highly textured splashes and daubs of bright and luminous colours – topped with abstract figures, which brings the canvas to life. His works are quickly making their way to both young and established collectors' homes, and it's hard not to avidly follow what's next for this young artist! We sat down with Anas to learn more about his journey…
Who is Anas Homsi the artist?
He is someone who has his own special way of seeing things. He tries to find depth and tries to uncover what lies beneath the surface. He works on social issues in a contemporary style dominated by abstract expressionism.
Since having established your signature brushstroke and colour palette, what continues to inspire you?
I am inspired by the new places that I visit, music, novels, poetry, new events in the world and the people I meet every day. An especially important source of inspiration is my wife, and my recently born baby boy, Leonard.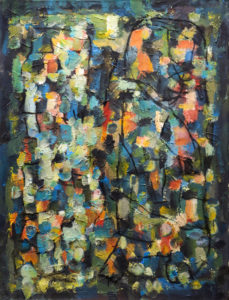 How has your move from Lebanon to Germany influenced your art, in terms of identity still playing a role in your production?
The transition to living in Germany has had a gradual impact on my work. I find that as the level of education here is higher, I have wider access to libraries and references in addition to the large number of professional artists who I have recently started acquainting myself with. I have also participated in group exhibition with some of them. I believe my artistic identity is already quite mature and I don't see it changing drastically, only growing and developing over the course of the next few years.
As a young Syrian artist at an early stage of their career – what can we expect from you in the coming years?
The artistic life is a long one, and each artist must continue on his path and develop his work, for me it's like that. I will keep working and working to transition my art to the next level with new thoughts, materials and techniques, and I still have the time to surprise my audience.
What message do you wish to deliver to your collectors through your art?
Through my art I wish to deliver a strong message about humanity, peace, love, and my life philosophy. I wish to convey all elements from my life and my dreams and I promise my collectors to always keep developing my production.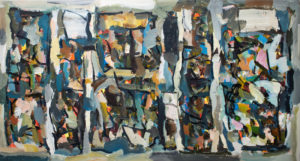 Where do you dream of having your art exhibited?
I dream to have my art exhibited at the Guggenheim in New York, and the Tate Modern and Saatchi Gallery in London.
You've been part of the EMERGEAST family for two and a half years, how do you feel your career has advanced since joining the platform?
Being a part of the EMERGEAST family and working with a professional team provided me with the great opportunity to deliver my work to a larger number of art lovers and gave me a chance to develop my work with the continuous discussions and preparations for some group exhibitions and auctions each year. The team has a respectable art background, in-depth knowledge about the global art market and have achieved great success since their inception. Now we are a real family and I am so proud to be a member of EMERGEAST.