Born in Jeddah, from a young age, Ghada was inspired by the pioneers of impressionism such as Paul Cezanne, Claude Monet and Vincent Van Gogh to start her creative journey. Ghada's oil paintings tell her vision of the history of Arabic culture and architecture by expressing its rich symbolism. She is fast becoming one of the most sought after emerging artists from the Middle East as her signature artworks are being acquired in homes all over the world. Here is an insight into the Saudi Arabian artist…
Describe yourself in three words…
Strong… Arabian Woman
Your artwork has strong references to Arabic culture and symbolism, is this your main inspiration? Tell us more about what inspires your art…
The inspiration behind my art is ultimately the relationship between humans and the history and mythology behind it. I believe the gap between history and the future is one extended moment. I particularly like to focus on Arabian icons in my artworks, sometimes I create characters in my mind and transfer their feminine spirituality onto canvas.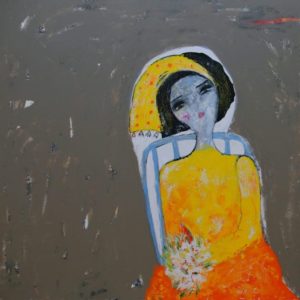 Is there a certain mood or setting you have to be in to let loose on the canvas?
I first need to experiment by mixing my colours and playing around with the palette before I really dive into painting.
What is the impression you want to leave with your audience through your art?
I want to reach out to my audience through my artworks to tell them that they can interpret my paintings any way that they like and let their imagination run wild. I want them to feel the hidden emotions of my characters. I want them to imagine dialogues between themselves and the characters I create.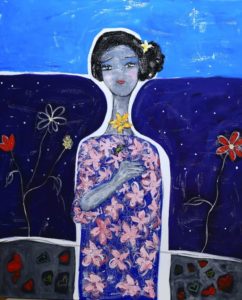 How has your art evolved since gaining recognition across the Middle East?
I believe the evolution has taken place through the colours I use in my artworks. I have now established my own special palette and technique. Now if you observe my artworks, you will recognise this is by Ghada.
Where can we imagine Ghada Al Muhammedi in 5 years' time and what will she be doing?
I hope to leave my footprint in the art world by honing in on my signature style. My goal is for my artworks to be displayed in every modern art gallery around the world.